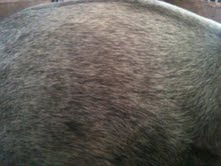 This is a closeup at the color he is getting now…
Solen sken och för en gångs skull kändes det varmt och vår i luften. Snön må vara kvar, men o så skönt det var ute. Jag jobbade Pepper lite för hand innan jag satt upp på ridbanan. Vi jobbade med sidvärtesrörelser – det är stelt och svårt enligt Pepper. Som avslutning gick vi iväg i någon kvart längsmed grusvägen. Det tror jag herrn gillade – plötsligt såg han massor med saker och var bara tvungen att frysa till eller hoppa en litet skutt rakt upp. Ingen fara för mig på något sätt, och jag tror att det mer handlade om att det var kul än om rädsla… Tidigare uteritter har han oftast varit opåverkad av det mesta, nu hittade han varje ursäkt.
På vägen tillbaka kom vi till en lätt uppförsbacke och jag tänkte att den vore ju inte fel att galoppera – men jag tänkte inte att vi skulle göra det. Men, jovisst, en kort och hög galopp blev det (vem kan säga nej då?) Den sort som Calinka tveksamt kan producera. Varenda gång vi saktade av till trav under hela turen gjorde han det dessutom mer eller mindre enbart på tanke, eller precis när jag börjat ge hjälpen. Oj, vad han kommer att bli fin en dag den här killen! (Men har fortfarande mycket att lära)
Mindreader
The sun was shining and for once it was warm and felt like spring in the air. The snow might still be there, but it was nice outside. I worked Pepper a little from the ground before I got in the saddle at the arena. We did a lot of lateral work – he is stiff and it is hard according to Pepper. As a reward for good work we took of like fifteen minutes along the road. I think he liked that – suddenly he saw a lot of things and just had to freeze or do a very small jump. Nothing that was hard to cope with and I think it was mostly his way of saying that it was fun than anything else… Previously on trail ride he has not been scared by those kind of things and now he sized all opportunities.
On the way back home we came to a part of the road that goes slightly uphill. I thought that canter wouldn't be wrong – but that we shouldn't. But, of course he gave me a short, high canter (how can say no then?) The kind of canter the STB Calinka hardly can produce. Besides, every time I asked him to slow down to walk from trot he obeyed be before I even asked or precisely when I started to ask. He is going to be so very nice one day! (Still have much to learn).
http:///ullekalv.se/wp-content/uploads/2015/09/ullekalv_header_logo.png
0
0
Ingrid Amadori
http:///ullekalv.se/wp-content/uploads/2015/09/ullekalv_header_logo.png
Ingrid Amadori
2013-04-01 20:34:00
2013-04-01 20:34:00
Tankeläsaren