Betydligt mycket bättre dagar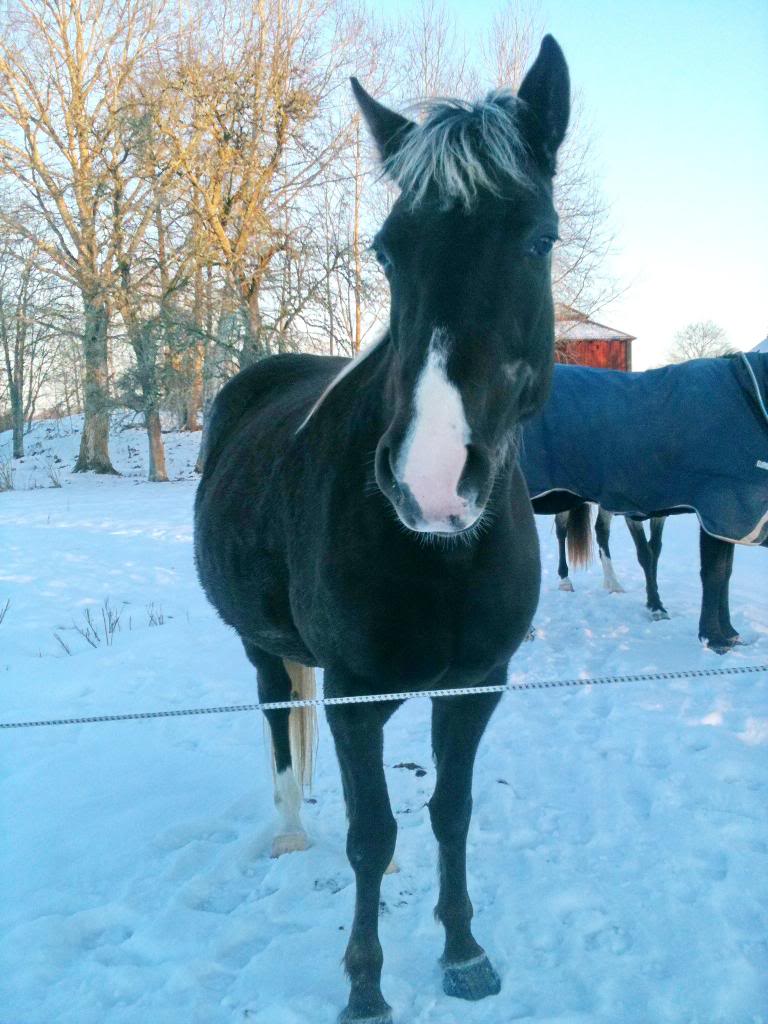 Bunny wanted to be the first to say hello.
Tisdagen tog Maria hand om hästarna. Planen var tömkörning av Pepper och tydligen blev båda två varma och trötta – men kanske inte på planerat sätt. Det var glashalt ute så jobbet bestod i att försöka ta sig ner till ridbanan och det var vad som fick dem att bli helt färdiga båda två. Innan de ens var framme promenedrade de tillbaka efter trettio mointers fajt för att ta sig ett par hundra meter…
Onsdagen fortsatte med rejäl halka (kommer våren någonsin?). Så Sandra och hennes syster blev begränsade i ridningen av Percy och Calinka.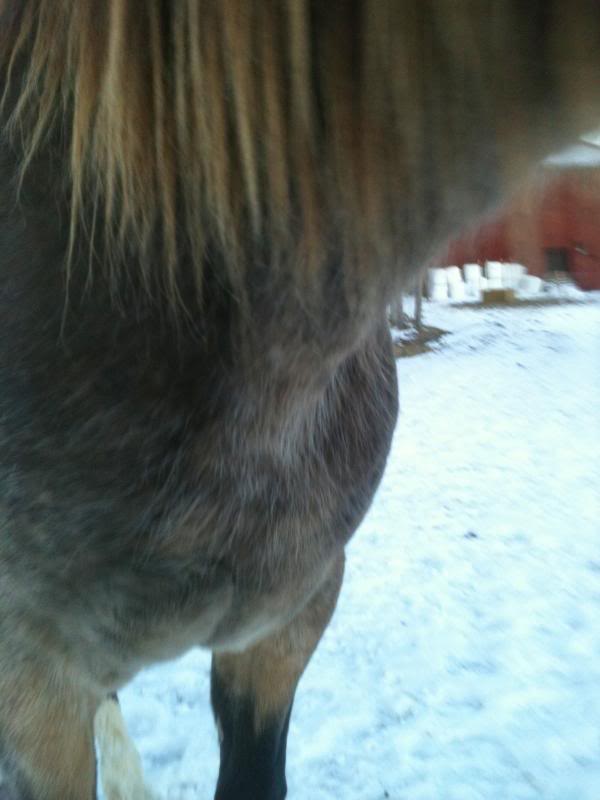 Percy is shedding and shifting color. Notice the yellow hair!
Torsdag hade jag helst stannat hemma och gått och lagt mig. Men, väl i stallet fick jag energi och red Calinka i dressyr tills hon kom loss. En hel del skutt och protester innan så skedde, men till slut så gick det bra. Allting flöt på mycket bättre än senast, trots att pannlampan helt dött (vi ska försöka laga den i helgen). Pepper fick äntligen sitt tömkörningpass och var lite busig samt försökte hela tiden sakta av från galopp på specifika ställen eller sakta av till skritt vid vändningar. Så, han fick jobba på. Han är fortfarande inte som vanligt mot mig, men det går åt rätt håll. Väl hemma hade jag mer energi än när jag gav mig iväg – precis som det ska vara!
Idag blev det vila för dem och framplockning av ny hösilagebal. När jag parkerade bilen såg jag Pepper komma mot grinden och när jag var på väg mot hagen tog stona till galopp för att komma fram. Bara det gör en så glad!
Maybe Bunny is shedding to?
Tuesday and Maria took care about the horses. The plan was long reining Pepper and both got a good work out – but not really as planned. It was very icy outside so the work turned out to be to get to the arena, and before they reached it they gave up. That was after thirty minutes of fighting to try to walk a road that usually takes a couple of minutes…
Wednesday continue with a lot of ice (is there every going to be spring?) Therefore Sandra and her sister got limited in their trial ride with Percy and Calinka.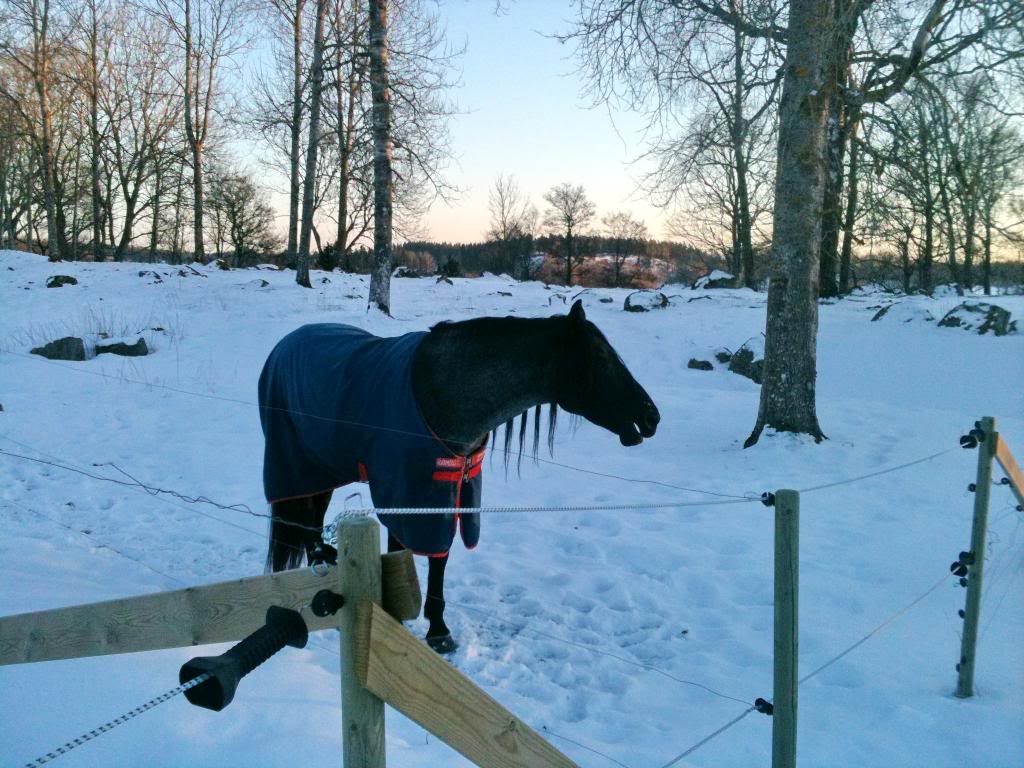 Pepper also came to say hello – and to yawn.
Thursday, and I had rather stayed at home, sleeping. But, in the stable I got energy and did some dressage with Calinka to get her softer. It took some jumping and stomping before her muscles started to soften up, but finally everything was ok. Everything in the stable worked much better than last time, even if my lamp didn't work at all (we are going to try to fix it this weekend). Pepper finally got his long reining work. He tried to stop canter in one corner all the time and to slow down to walk every time I turned so we had some discussions about that. He is still not as usual towards me, but it is going in the right direction. Back home I had more energy than when I left. As it should be!
Today they got a new hay roll and water. When I parked the car I saw Pepper walk for the gate and when I started to walk towards the pasture the mares came in canter. Made my day!
http:///ullekalv.se/wp-content/uploads/2015/09/ullekalv_header_logo.png
0
0
Ingrid Amadori
http:///ullekalv.se/wp-content/uploads/2015/09/ullekalv_header_logo.png
Ingrid Amadori
2013-03-15 21:25:00
2013-03-15 21:25:00
Betydligt mycket bättre dagar