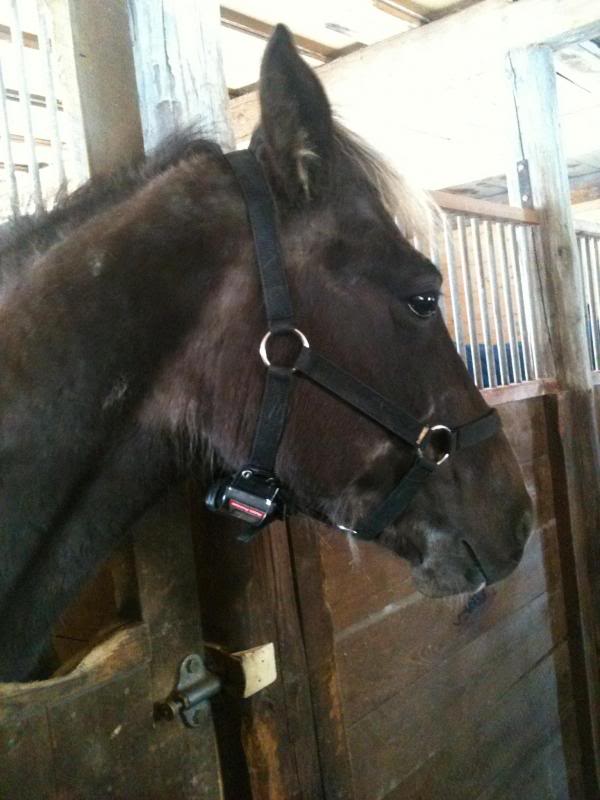 Birth alarm attached to the halter.
Mitt birth alarm kom hem rekord snabbt, men sedan har det inte gått snabbt. Jag fick införskaffa ett SIM-kort för att kunna använda det, samt 100 kr i värdebevis, men så behövde man ladda detta SIM kort med pengarna och kolla några enkla inställningar…. Och då behövdes en telefon som inte var operatörslåst och som tog "stora" SIM kort, dvs inte sådana som är i exempelvis en iPhone… Och den typen av telefon är sällsynt i vårat hem, och även i bekantskapskretsen visade det sig. Efter nästan en vecka fick jag tag på en av Maggan (TACK!!!) så att jag äntligen kunde få igång det hela. Sedan tog det ytterligare någon dag innan jag lyckades programmera in telefonnummer så att den ringer upp mig och Kristian när fölningen verkar ha börjat. Men, nu är den ÄNTLIGEN på plats. Bara att hoppas att allt fungerar som beräknat!
My birth alarm came home really fast, but after that it haven't been going fast. I bought a ISM card to be able to use the alarm, and some money to put on the card, but then I needed a phone to get the money uploaded to the card and do some small adjustments… And then I needed a phone that wasn't looked to the "wrong" phone-company and that wanted "big" SIM -cards, not the small one that are used in iPhones… And that kind of phone was not in our house and not among our friends either. After nearly a week I found one (THANKS MAGGAN!!!!) so I could finally get everything going. Then I took one more day until I had programmed the birth alarm with the phone numbers that it calls when the foaling has begun. But now is it FINALLY in place. I am just hoping that it is working as expected.
http:///ullekalv.se/wp-content/uploads/2015/09/ullekalv_header_logo.png
0
0
Ingrid Amadori
http:///ullekalv.se/wp-content/uploads/2015/09/ullekalv_header_logo.png
Ingrid Amadori
2013-03-17 19:10:00
2013-03-17 19:10:00
Birth alarm – äntligen på plats!