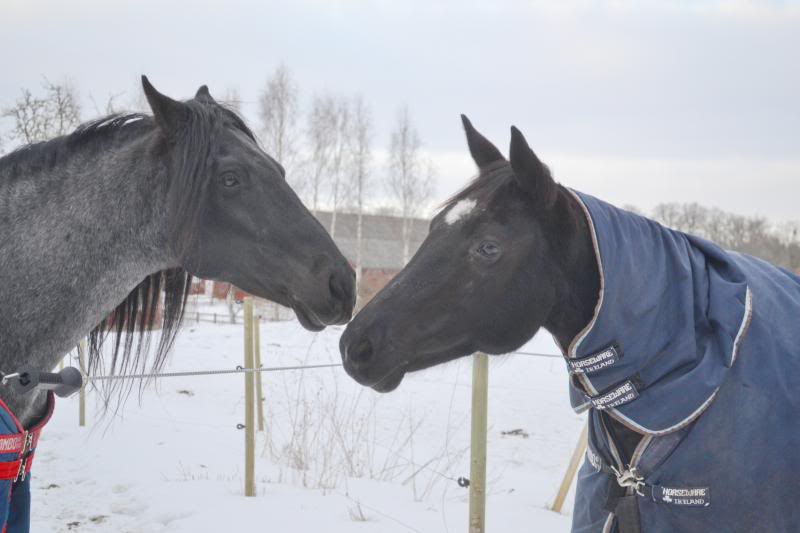 Pepper and Calinka flirting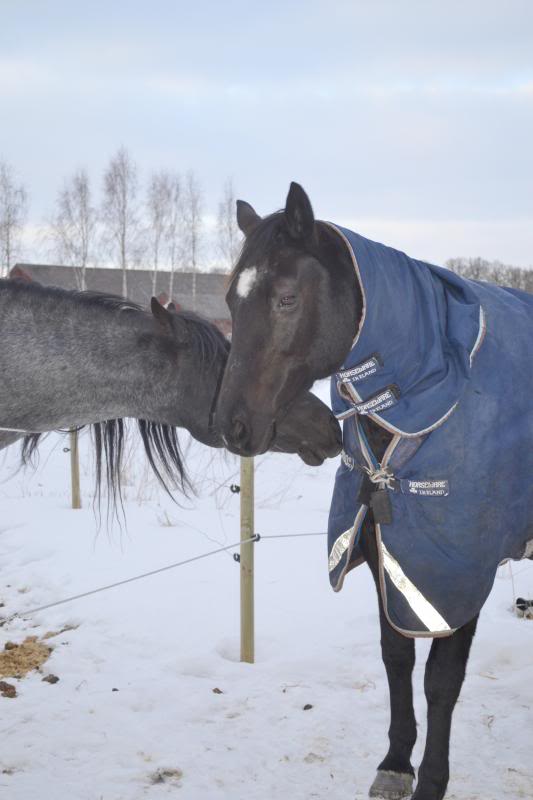 00.30 ringde min mobi – birth alarmet reagerade! Min känsla var att det var falsklarm, men det är svårt att satsa på det och inte åka upp. Så, bara att hoppa ur sängen, klä på sig och åka iväg. Mycket riktigt var det falsklarm – troligen sov Bunny på sidan. Tydligen gör inte många högdräktiga ston det, men med stor sannolikhet Bunny. Hon kom så glatt i hagen med Percy, Calinka däremot tog längre tid på sig och verkade ha varit i en annan del av hagen. Kul att klura på vad de gör nattetid. Bunny var inget svettig och hade ingen mjölk på gång i juvret. Larmet är tänkt att höra av sig när värkarna börjar och i så fall hade fölet snarare varit på väg ut än en helt obekymrad blivande moder. Så, efter en kort stund åkte jag hemmåt och var i säng en timme efter att larmet gått. Strax därpå kom nästa larm… Men, det blev ingen ny resa utan jag somnade om.
Idag tittade jag bara till och fodrade hästarna samt passade på att ställa om alarmet så att det inte larmar direkt när hon ligger platt på sidan utan när hon är orolig och flyttar sig, lägger sig, ställer sig etc. Så, nu hoppas vi på det. Det verkar ha varit ett bra val att ta larmet som går att göra detta på i alla fall, trots att det kostade en del mera. jag känner inte för en resa varje natt bara för att bekräfta att Bunny sov. Tänker jag på det är jag inte heller så förvånad att Bunny sover på sidan – hon är inte så jätterund som många andra ston som jag sett bilder på.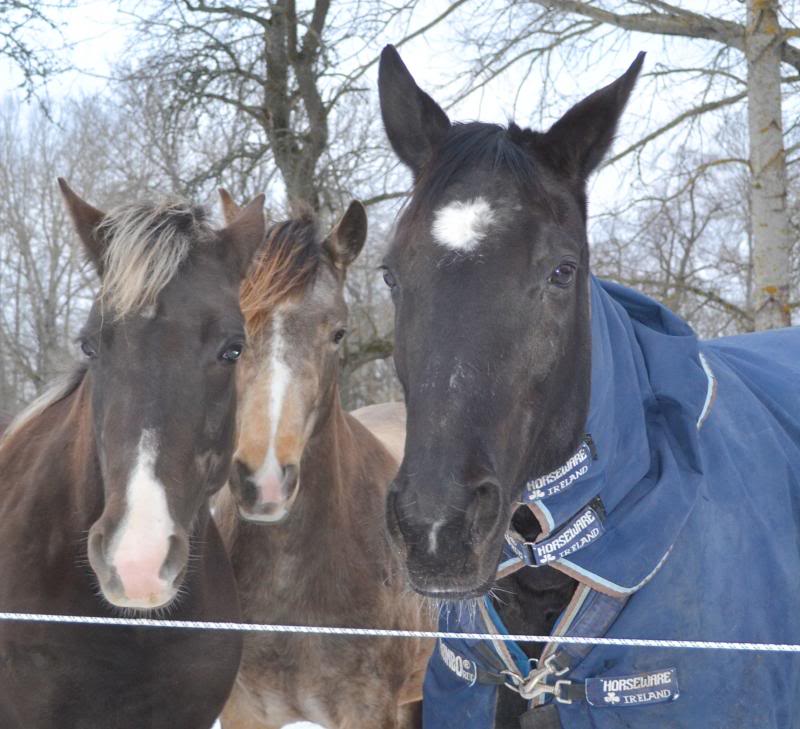 Three girls in one picture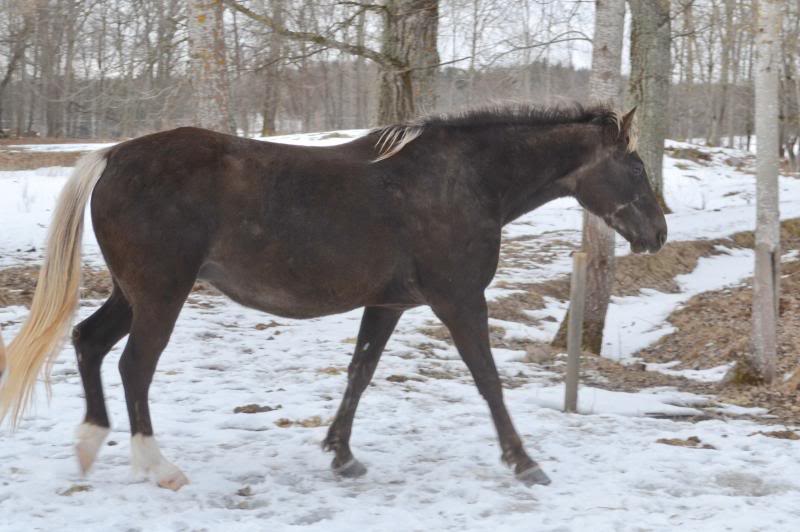 Bunny today 322 days pregnant.
00.30 my cellphone called – the birth alarm! My feeling was that it was a fake alarm. But it was hard to be sure so I had to get up and drive for the stable. When I got there Bunny and Percy came walking from the shelter, while Calinka took some time and seemed to have been somewhere else. Fun to see what they do during night. Bunny wasn't the least warm and had no milk right away. She seemed perfectly normal, and the alarm is supposed to go of when the contractions starts and in that case the foal should be close by instead of a mother to be that seemed totally normal. So, after a short time I went back home and was back in bed an hour after the alarm went of. Soon I gota new alarm… But I stayed at home this time.
Today I only gave some food to the horses and put the alarm in a different mode. Now it isn't going to call as soon as the mare lays at the side, but when she gets more worried, shifts positions, lay down, get up etc. Now I hope that is going to work. It seems as I chose the right alarm as this one has that feature even if was more expensive. I don't like to get up each night just to confirm that Bunny was asleep. And thinking about it I am not surprised that Bunny still sleeps on her side – she isn't as big as many other mares that I have seen in pictures.
Percy isn't the one with most patience – she does this a lot – but I rarely catch her doing it with the camera.
http:///ullekalv.se/wp-content/uploads/2015/09/ullekalv_header_logo.png
0
0
Ingrid Amadori
http:///ullekalv.se/wp-content/uploads/2015/09/ullekalv_header_logo.png
Ingrid Amadori
2013-03-18 21:40:00
2013-03-18 21:40:00
Birth alarm larmar