Birth alarmet ringde; klockan 4.17 på morgonen. Igår var Maria i stallet så jag såg inte Bunny själv. Däremot kändes det som ett äkta larm. Tur att jag råkat vakna av mig själv bara en kort stund innan. (Bra att något vettigt kunde komma från att vakna alldeles för tidigt på morgonen). Så jag kunde snabbt kasta på mig kläder och sätta full fart mot stallet. En bra sak med den tidiga tiden var just att risken för att möta trafik var obefintlig – bara vilt (som det förvisso finns gott om, och nog såg jag ett antal harar).
Uppe i hagen såg jag först två hästar, det var ännu mörkt ute. Efter en lite stund urskilde jag även nummer tre som bara stod i en vinkel vid hösilaget så att hon inte syntes. Det var Bunny. Inte såg hon ut som om det var något föl på gång inte. Jag stannade ändå en liten stund bara för att försäkra mig om det och passade på att fylla upp lite vatten och skruva fast ett par bräder kring sjukhagen (vi fick äntligen tag på flera skruvar häromdagen). Sedan blev det hemresa, frukost och resa mot jobbet.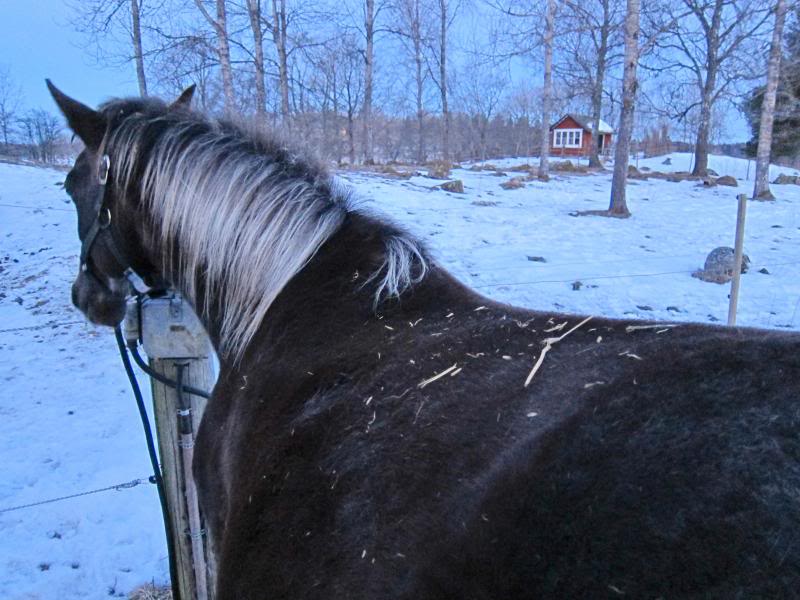 But I guess she had been sleeping good – straw at her back.
Birth alarm called at 4.17 am. Yesterday Maria was in the stable so I never looked at Bunny (but she did). But this time it felt like a true alarm. Luckily I woke up just a little bit before the alarm went of (something good came out of waking up to early). A good thing about the early morning was that the chance of seeing another car was minimal – I only had to watch out for wild animals.(I saw some hares).
Getting into the field I saw two horses, it was still rather dark. Coming closer I saw the third one that had been in an angle eating hay. That was Bunny. She didn't look like as there was any foal trying to get out. I stayed for a short while just to make sure, filled up some water and attached two pieces at the fence (we finally bought the missing screws yesterday). Then I got home, had breakfast and took off for work.
http:///ullekalv.se/wp-content/uploads/2015/09/ullekalv_header_logo.png
0
0
Ingrid Amadori
http:///ullekalv.se/wp-content/uploads/2015/09/ullekalv_header_logo.png
Ingrid Amadori
2013-03-28 17:39:00
2013-03-28 17:39:00
Nytt föllarm!