Detta inlägg blir självklart med Rocky Mountain hästen i åtanke och dess användningsområde och de exteriöra drag som jag har sett hos rasen.
Självklart vill jag ha en häst som stämmer mot rasbeskrivningen. Där är det en fördel med certifieringen som finns eftersom den kräver en rastypisk exteriör, så viss hjälp får man redan där. En certifierad häst är inte helt otypiskt för sin ras. Även om det inte räcker för mig.
De krav jag har är de jag genom olika källor lärt mig leder till att en häst troligen har lättare att utföra det jag ber den om, att den får lättare att bära sig i en korrekt form och därmed också bör hålla bättre. För mig är det och ett trevligt temperament viktigare än allt annat, då kommer man alltid att ha kul med sin häst. Färg, stam, tävlingsmeriter och till viss del gångarter blir sekundärt, men kanske det som gör "pricken över i". Dessutom kan dessa "sekundär" egenskaper ge en hint om de jag söker.
De första sakerna jag kollar på hos en Rocky jag är intresserad av är övergången mellan rygg och länd, SI-leden. Jag har sett flera individer som, i mitt tycke har SI leden placerad för långt tillbaka och där den är för tydlig och korset sedan blir väldigt brant. Att jag är så noga på denna punkt beror på att den är väldigt viktig för hur hästen använder sina bakben och hur lätt den kommer att ha att gå i form. Dessutom blir hästen mer viktbärande med en korrekt SI led och en kortare rygg. Men, jag har även sett individer som är så högrektangulära att de blir för korta i min smak. Lagom är bäst.
Jag har även sett att några individer varit väl långa i bakbenen. Det lär, enligt teorierna göra att det ser ut som om de jobbar bra med bakbenen men ofta blir hästen istället lätt överbyggd och kan få svårt att jobba ärligt. Överbyggda hästar är inte heller ovanligt och de går också bort hos mig (om det inte är en växande unghäst). Även här blir det svårare att få hästen att bära mycket vikt på bakbenen. Jag har hört att vissa har ansett att det finns individer med väl raka bakben istället, men dessa har jag inte stött på.
Generellt vill jag ha så korrekta benställningar som möjligt, men här kan jag kompromissa mera. Hur är hästen uppfödd, hovvård (många har stora flockar på lösdrift och har kanske inte alltid gjort mindre korrigeringar som vi skulle gjort i Sverige) och vad är det för typ av fel. Jag föredrar också en ordentlig benstomme, enligt ett resonemang av Deb Bennet där detta leder till högre hållbarhet.
Många hästar tycker jag har haft korrekt bog och halsansättning mot kroppen, däremot är vissa väl grova mellan huvud och hals. En häst som är för grov här kan få problem att böja nacken för att gå i form.
I övrigt vill jag att hästen ska ha en bra balans mellan de olika kroppsdelarna och gärna ett veckert huvud med pigga ögon. Men där börjar vi hamna på temperament och känslan jag får av hästen.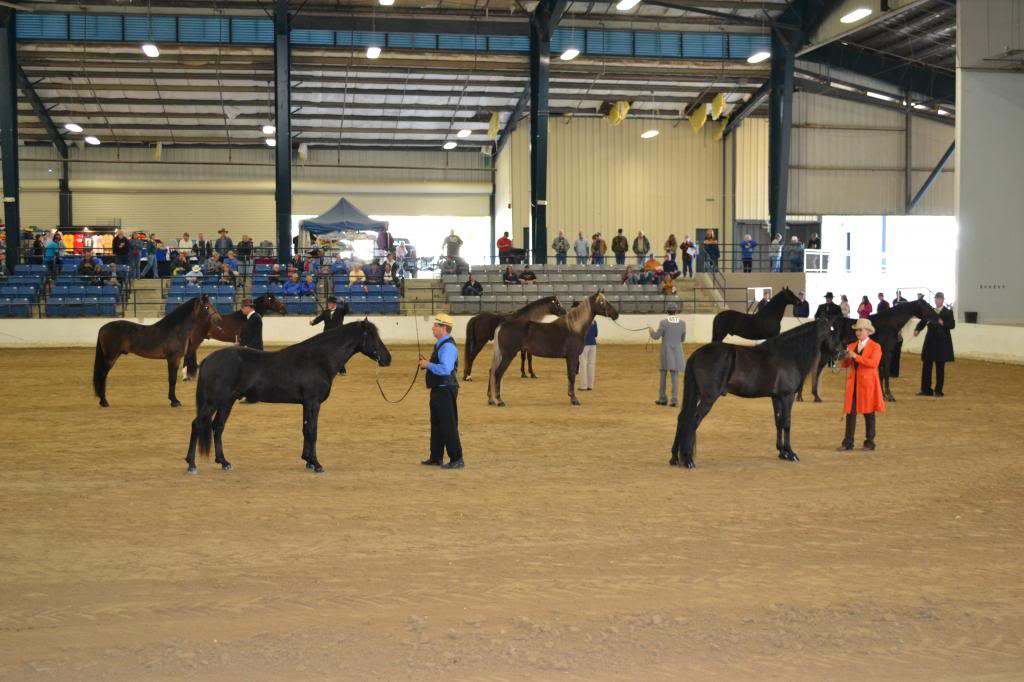 Comformation class in Kentuck 2011, probably young stallions.
Horse breeding – conformation
This post is of course with the Rocky Mountain horse in mind and their use and the conformation I have seen within the breed.
Of course I want a horse that lives up to the breed standard. The certification process really helps as it demand a typical conformation. A certified horse lives up to the breed standard. But it is not enough for me.
The things I demand comes from what I have read and learned about from different sources and all comes down to makes it easier for the horse to do what I want it to do, to make it easy to work in a healty fram so it stays healthy. Therefore that and a nice temper the most important things, then you probably always have fun with your horse. Color, pedigree and show results and gait becomes secundary, but the thing that maybe makes an indivudal "special". And of course those things can give a good hint about those other things.
One of the first things that I look at with a Rocky is the coupling. I have seen some indiviuduals where I don't like this part, where it is to far back for my taste, to prounanced and the croup to steep. That I acre so much about this is because it is makes it harder or easier for the horse to use its hindlegs and use its back correct. A short and broad coupling and a short back also makes the horse able to carry more weight. But, I have seen indivduals that, according to me, are to short where all the body gets to compressed. There is always the thing about the "in between" that is the best, "lagom" as we say in Swedish.
I have also seen indivduals with very long hindlegs. I have read, that they then seems to be working better behind, but the horse easily get higher at the croup and get a downhill balance and either of those things makes it harder for it to work in a correct frame. I have also heard that some indivduals have to straight hindlimbs, but I haven't meet those.
I want as correct legs as possible, but I might be able to compromise a little more on that. How the horse grew up, hoof care (many keeps big groups of horses and moight not always correct at young age them as much as we tend to in Sweden) and the type of incorrectness is what matters. I am more concerned to get good bone, as that, according to Deb Bennet helps to keep the horse sound.
I think that many horses have had a good shoulder and neck attachment to the body, even if some ones are a bit to fleshy in the connection between head and neck. If so, the horse might have a problem to bend the neck as much as I prefer.
All over I want teh hrose to have a good balance in the body, that it has nice proportions between all differnt parts. I also like a pretty head with nice eyes. But there comes a part of the personality and the feeling I get from the horse.
http:///ullekalv.se/wp-content/uploads/2015/09/ullekalv_header_logo.png
0
0
Ingrid Amadori
http:///ullekalv.se/wp-content/uploads/2015/09/ullekalv_header_logo.png
Ingrid Amadori
2013-03-29 09:38:00
2013-03-29 09:38:00
Hästavel – exteriör