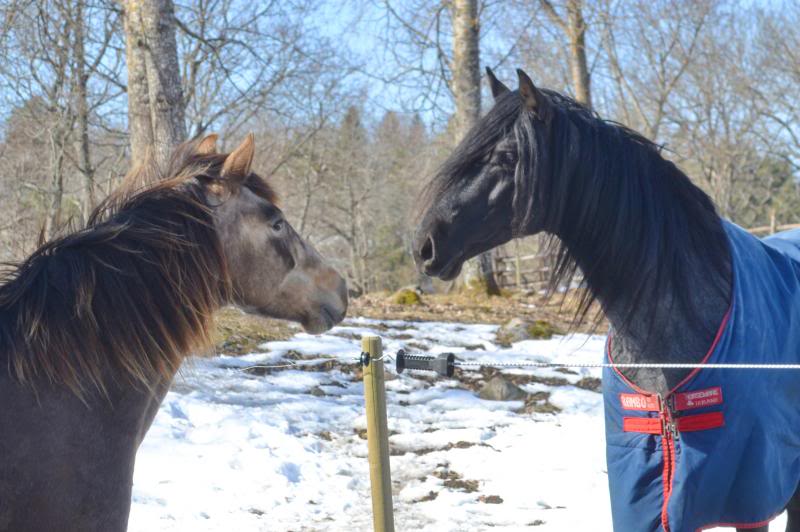 Flirting over the fence.
Familjefirande skulle kombineras med stalljobb. Så, jag hann tömköra Pepper. Han jobbade jättefint på ridbanan, vi testasde lite slutor i trav och att ställa lite utåt i volt. Ovanligt mycket tölt bjöd han också på och var full av energi. Han var bara tvungen att stå på bakbena en gång i början när vinden blåste.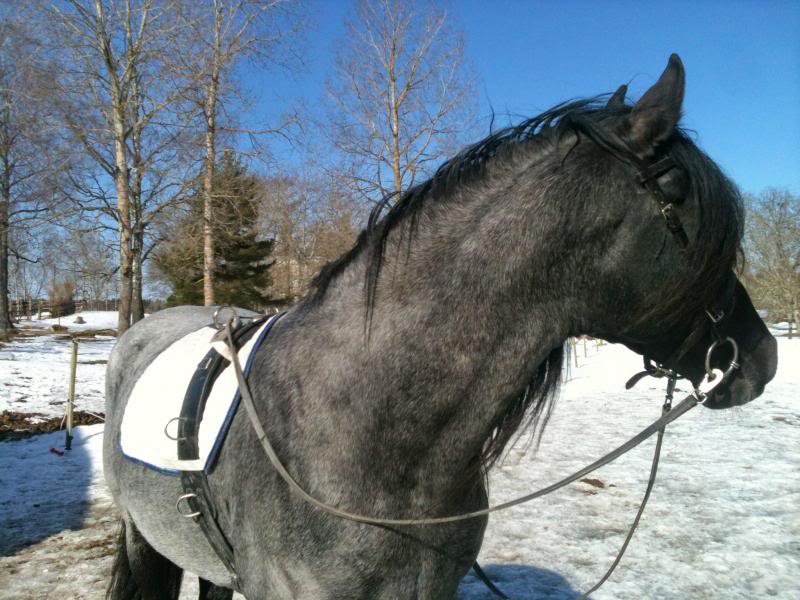 He is shedding a lot – and get very white.
Eftersom underlaget inte var bra nog gick vi ner på fältet och galopperade – kul sa Pepper, men efter några varv började han kicka massor och bocka – samt fara iväg i full fart och gå i korsgalopp. Efter passet var han för en gång skull lite varm och han hade tuggat bättre än någonsin på bettet. Antingen så är det något som irriterar honom i länd/kors eller så orkade han inte riktigt med galoppen i snön, eller så var han väldigt busig. Framtiden får utvisa, kanske var det lite av allt. Väldigt skönt var det med lite massage och arnika på länden efteråt i alla fall.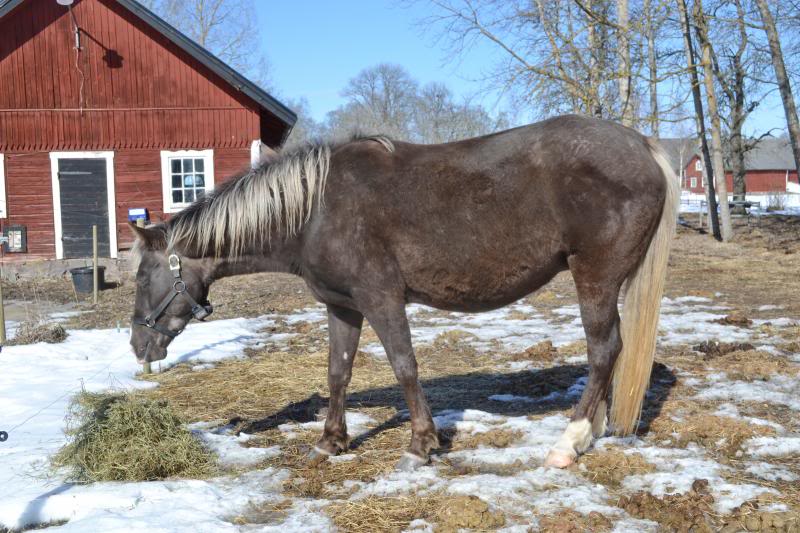 Bunny 334 days pregnant.
Family Easter celebration was supposed to be combined with horses. Therefor I only had time to work Pepper. He was very nice at the arena; we did some haunches in while trotting and I tried to turn him a little bit outside while turning. He gaited more than usual and had a lot of energy. So much in fact that he only had to get on his hind legs once in the beginning.
As the ground in the arena wasn't good enough we went to the field below to canter a bit. Fun according to Pepper, but after a couple of laps he started to kick and buck more and more – and race away and get in cross-canter. When finished I noticed that he for once was a little warm and that he had been chewing more than ever at the bit. I think that either something irritated him in the loin area or he didn't really have the strength in the snow or he had a lot of energy. The future will show if it is any, or all of the reasons. He really likes some massage and arnika at the loin afterwards anyway.
http:///ullekalv.se/wp-content/uploads/2015/09/ullekalv_header_logo.png
0
0
Ingrid Amadori
http:///ullekalv.se/wp-content/uploads/2015/09/ullekalv_header_logo.png
Ingrid Amadori
2013-03-30 20:49:00
2013-03-30 20:49:00
Påsk