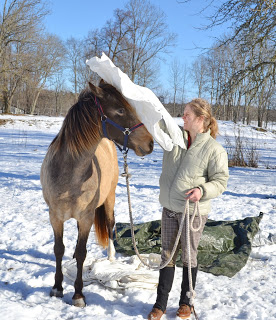 Idag var det dags att se om det skulle gå att få ordning på Pepper med Björn. Det blev ledövningar som jag tycker fungerade bra. Lite tuggande från Peppers front, men i övrigt ok. Trots ett dåligt underlag på ridbanan satt jag upp en kort stund – sedan fick det räcka just för underlagets skull. Under tiden fick Bunny bära runt på Tora, Björns dotter.
Björn provade att rida ut en kort bit själv med Calinka medan Nanette, Tora och jag jobbade Percy lite. Vissa stunder var Percy precis som vanligt, men det fanns något mer där kände jag. Än vet jag inte riktigt vad. Nåja, paraply i och presenning var inget svårt för tjejen.
Today was a day when we tried to work Pepper with Björn. Some walking exercises that I thought worked well. Pepper wanted to chew a little bit, but otherwise it worked ok. Even if the ground at the arena was a bit icy I got on Peppers back and did some dressage – then we gave up because of the ground. While we did this Bunny carried around Tora, Björn's daughter.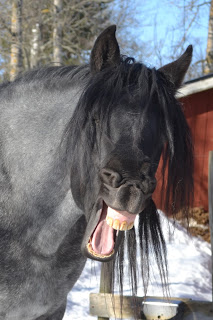 Then Björn tried to head of for a short trail ride with Calinka while Nanette, Tora and I did some work with Percy. Some times Percy was as usual, but there was something else as well. I am not sure about what. Anyway, umbrellas or tarp wasn't hard for her.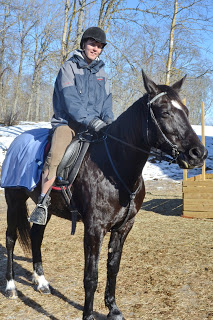 Calinka and Björn when they came back,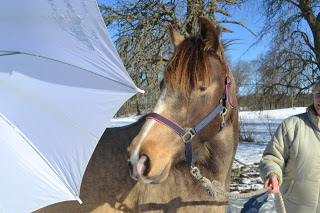 Percy and the umbrella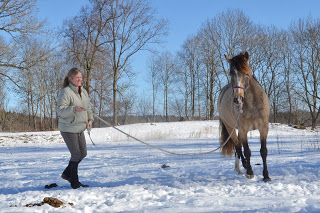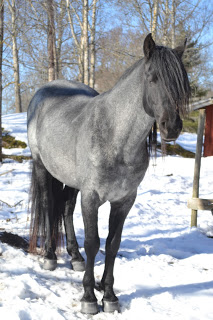 Someone seemed to fall asleep in the sun…
http:///ullekalv.se/wp-content/uploads/2015/09/ullekalv_header_logo.png
0
0
Ingrid Amadori
http:///ullekalv.se/wp-content/uploads/2015/09/ullekalv_header_logo.png
Ingrid Amadori
2013-03-03 21:34:00
2013-03-03 21:34:00
Vacker söndag