I vanliga fall brukar jag inte vara alltför noga med mina stallkläder – ofta blir det sådant som av någon anledning inte passar på jobbet längre. Men, det brukar ändå finnas någon form av koordination och största problemet är nog att man blir smutsig. Så, jag lär inte vinna någon "bäst stallklädd" tävling, men inte skrämma slag på någon heller.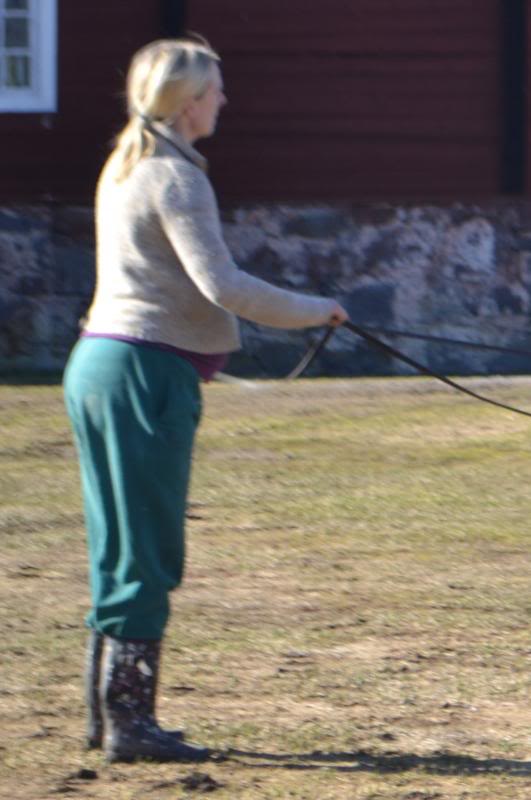 This might me be…
Som gravid däremot… Tacksamt nog lyckades jag gömma mig i termoridbyxorna och vinterjacka länge, men nu… Ett par byxor som landat i stallgarderoben går på och det är förvånande att de finns där. De köpte medan jag bodde hemma och är riktiga mjukisbyxor = massor med magutrymme. Dessutom är de i en klargrön färg så när jag för några år sedan behövde något att måla i passade byxorn perfekt. Och så nu då…
Tröjor finns det några större som passar, men ofta blir det en glipa mellan den tjockare tröjan och byxorna där T-shirt sticker fram. Som bonus behövs inte längre tjocka vinterjackan och vad passar då – jo min oranga jacka som jag också tyckt passat bäst att måla i. Eftersom hagarna är så leriga blir det dessutom gummistövlar på fötterna – ofta de ned blommor som jag köpte när jag akut behövde ett par.
Så ett tips: blunda eller ha mörka solglasögon nära mig i stallet. För jag kommer inte köpa något nytt för den korta tid som är kvar och övriga gravidkläder behövs på jobbet… Trots att jag ser ut som ett vrak.
Pregnancy and dressing up in the stable
I am usually not very careful about what I wear in the stable – I used my old stuff that by some reason isn't good enough at work anymore. But, there is usually some kind of coordination and the biggest issue is usually all dirt that I pick up grooming and walking around among the horses. That way I never win the "best dressed in the stable" competition, but hopefully I don't scare anyone either.
As pregnant on the other side… I managed to hide in my thick winter trousers and jacket for a long time but now…The only thing I can use is an old pair of trousers that nearly disqualifies even for stable use. They were bought while I lived at my parents place and the only good thing about them is that they has a lot of space for a stomach. They came into a very green color and the reason they might still be in my wardrobe is that I started to use them while painting the stable. And now I don't find anything else…
Shirts is a little bit simpler, but often the thicker shirt is to short to cover all my stomach and let the t-shirt underneath show up. As a bonus I don't need my big winter jacket anymore – but the thing that fits perfectly is the jacket I used for painting as well – and I used that as I dislike the orange color… As the pasture is kind of muddy I have to use wellies and by some reason I often use the ones with flowers.
Therefore – if visiting close your eyes or get a dark pair of sunglasses. I am not going to buy something new for the short time that is left but I know I look like a wrack.
http:///ullekalv.se/wp-content/uploads/2015/09/ullekalv_header_logo.png
0
0
Ingrid Amadori
http:///ullekalv.se/wp-content/uploads/2015/09/ullekalv_header_logo.png
Ingrid Amadori
2013-05-03 10:04:00
2013-05-03 10:04:00
Gravid och stallkläder