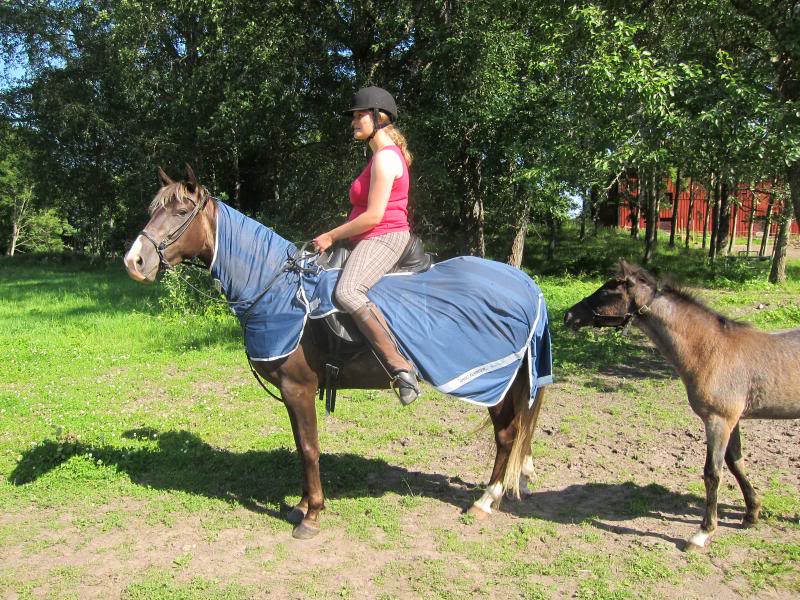 Igår sammanstrålade Maria, Nanette och jag i stallet för att försöka göra lite där man behöver vara två. Maria tömkörde Pepper medan Nanette satt upp en kort stund på Bunny och jag följde efter med Tea i grimskaft. Tea skötte sig jättebra, särskilt med tanke på att det var första gången hon leddes utanför boxen.Bunny ledsnade efter ett tag på att gå runt i hagen, men skötte sig bra och kom ihåg en del – senast hon reds var i december. Hon behöver helt klart mer utbildning (men hon har ju ca 30 dagars träning i USA + ett tiotal ridturer i Sverige samt lite tömkörning bakom sig så något annat vore konstigt). I alla fall verkade det helt ok att ha med dottern, både ledd och sedan lös så när vi har tid kan vi börja utbilda henne lite mer.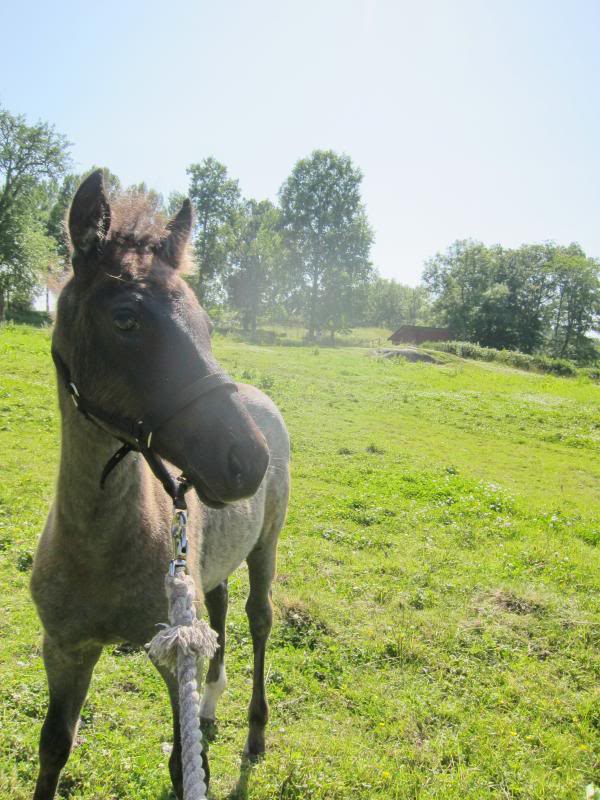 Both taking a pic and leading Tea. Good girl!
Peppers ben är något bättre och svullnaden går ner lite vid motion. Men eftersom han inte svarat så bra som önskat fick han ny medicin – nu ska antibiotikan sprutas istället. I alla fall skötte sig Pepper exemplariskt när han sprutades.
Bunny and Tea and work
Yesterday Maria, Nanette and I all went to the stable to do somethings that demands more than one person. Maria long reined Pepper while Nanette rode Bunny for a short while and I followed them around with Tea on the lead line and then set Tea free. Tea did great – the first time she was lead outside the stall. Bunny remembers something – she hadn't been under saddle since December and need more education. But, she wasn't to upset with being worked and having her daughter around, so we probably start her whenever there is time to let her do something.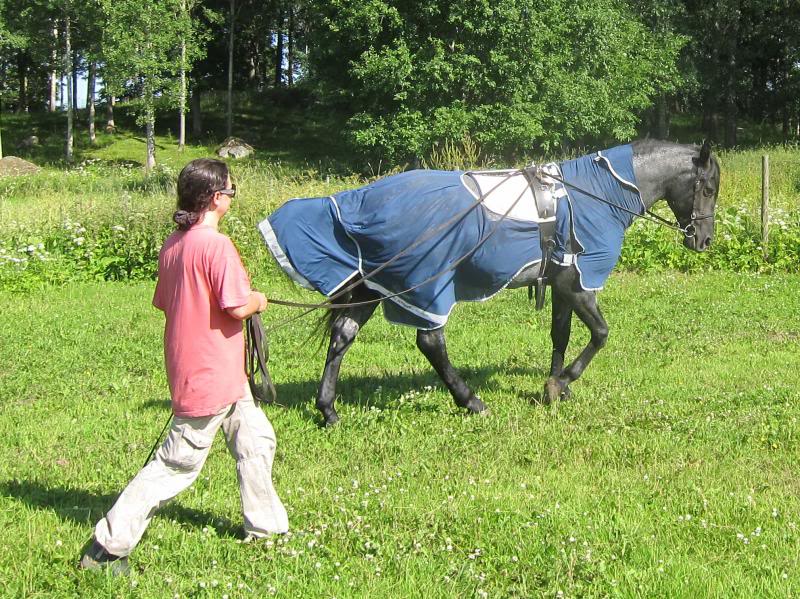 It looked like this a lot of the time.
Peppers leg is a little bit better and the swelling is getting a little better while he works. But he hasn't answered as well as suspected so he got a new kind of antibiotics – this time it is going to be injected. At least the first time he behaved perfectly.

http:///ullekalv.se/wp-content/uploads/2015/09/ullekalv_header_logo.png
0
0
Ingrid Amadori
http:///ullekalv.se/wp-content/uploads/2015/09/ullekalv_header_logo.png
Ingrid Amadori
2013-07-10 14:36:00
2013-07-10 14:36:00
Bunny och Tea jobbar