Det var förvånande enkelt att beställa DNA test från UC Davis. Några klick och det mesta var givet – det enda som var kvar var att skriva ut pappret som skulle skickas med taglet samt instruktionerna. Och så klart att ta provet och posta det.
Det som ska testas är Embla och vilken färg hon egentligen har. Frågor på internet har gett olika svar: några har sagt att hon är silversvart, någon har funderat på silvergulbrun och ytterligare någon var tvärsäker på att det var isabellkonstatskimmel. Min gissning ligger på silvergulsvart konstantskimmel, men jag är långt ifrån säker på det.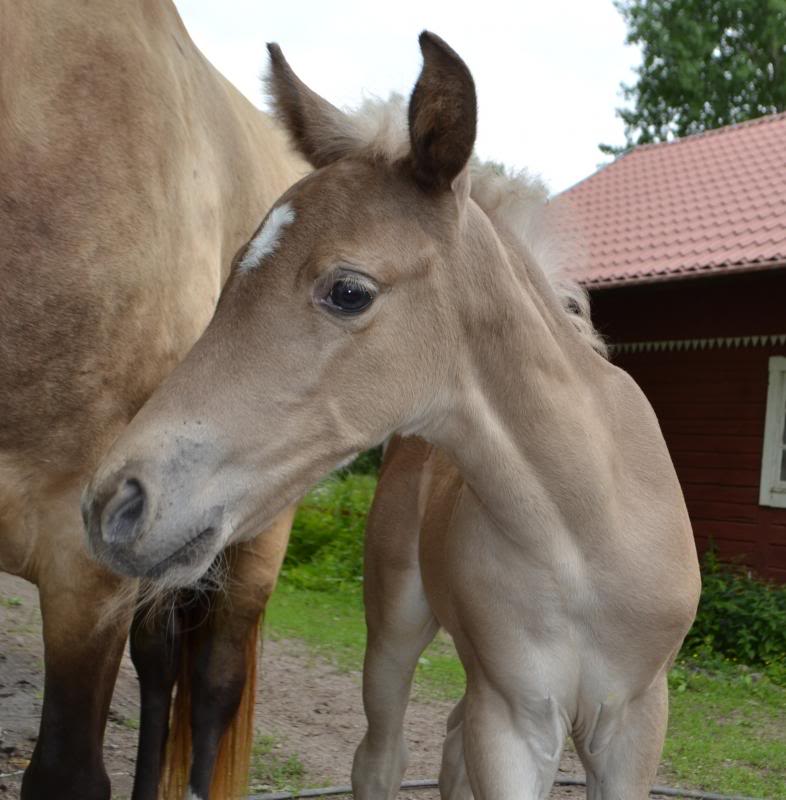 The grey skin, the white eyelashes and mane and the light eye.
Vad jag grundar min gissning på: På många bilder ser hon ganska typisk ut för silversvart, bara något ljusare och att hon har silvergenen tvekar jag inte på. Men, hennes ögon är fortfarande inte helt bruna utan blåaktiga om man kommer nära. Huden runt nos och öga är ljusgrå, vilket skulle kunna indikera en gulgen, även om huden under svansen varit väl mörk för det. Jag tycker dessutom att jag har sett ljusa hår i botten av fölpälsen på samma sätt som Tea hade när hon var nyfödd, men där har inte Embla stått still tillräckligt länge och jag haft så många möjligheter att kolla. Dessutom är hela hon ljusare i tonen.
I alla fall så blir det ett test på gulgen, ett för konstantskimmel och ett för om hon är brun eller svart baserad. När jag ändå var i farten fick det även bli ett test på Pepper – hurvida han bär på fuxanlag eller ej. Vad jag har kunnat se från stamtavlan är det minst 50% chans att han gör det och det vore kul att veta om det kan bli fuxfärgad avkomma.
Horsecolor – DNA test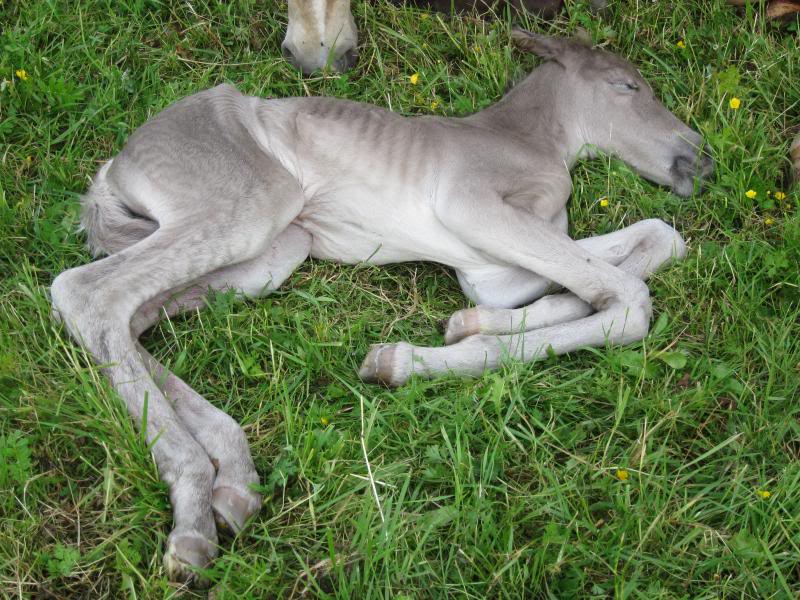 As newborn she was very greyish in her coat, guess the sun has been bleaching it a bit now.
It was surprisingly simple to order a test from UC Davis. A couple of click and most was fixed – the only thing left was to print the order form and get the sample according to the instructions. And put it all in the mail.
Embla is the one that is going to be tested. What is her color? I have asked at the internet and got a lot of different results: some thinks she is a classic silver black, some one thought silverbuckskin while another was rather sure she was a palomino roan.My guess would be a silver smokey black roan – but I am far from certain.
Why I think as I do: In many pictures she looks rather typical for a black silver, just a little bit lighter and that she carries the silver gene is given. But, her eyes are still not totally brown but a little blueish. Her skin at the muzzle and the eyes are grey instead of black even if the skin underneath her tail has seemed to be darker. And silver and creme together lightens the skin. I also think that I have seen light hairs in the bottom of the foal coat, much like I did at Tea, but Embla hasn't been standing still long enough and I haven't had many chances to check. And of course, she is lighter all over.
So, Embla is getting a test for the creme gene, one for roan and one for agouti – then I should know her color. When I was ordering I also got one test for Pepper – to see if he carries a red gene or not. According to his pedigree there would be at least a 50% chance that he does and it would be good to know if he can get red offspring or not.
http:///ullekalv.se/wp-content/uploads/2015/09/ullekalv_header_logo.png
0
0
Ingrid Amadori
http:///ullekalv.se/wp-content/uploads/2015/09/ullekalv_header_logo.png
Ingrid Amadori
2013-07-06 21:13:00
2013-07-06 21:13:00
Hästfärger – DNA test