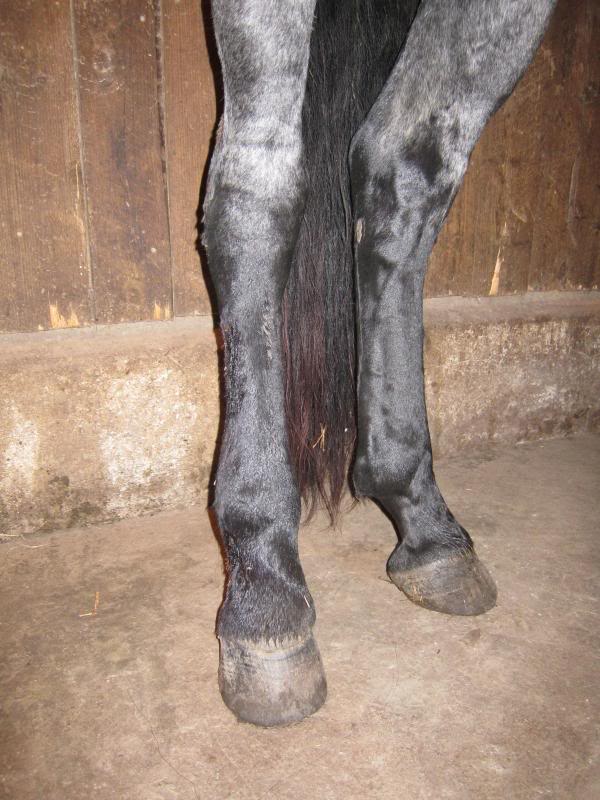 It is hard get a photo that shows how swollen the leg is…
Idag kom då veterinären förbi och han konstaterade precis som jag att något inte var som det skulle med benet och att behandling behövdes. Så, nu har Pepper fått antibiotika och smärtstillande. Han var inte helt förtjust i pulvret som blandades i maten, men antibiotikan som ges i munnen kunde jag ge direkt i hagen utan grimma.
Självklart hade både Pepper och Percy kastat av sig flughuvorna (och jag återfann dem). Calinka stod och gnäggar på mig – hon verkar sugen på att vi ska hitta på något!
Vet visit
Today the vet came by and concluded that Pepper needed some treatment for his leg. He is getting antibioticts and painkillers. Not that he liked the taste of the painkillers that was mixed in his food, or the antibiotics, but I could give him that in his mouth in the pasture without a halter.
Of course Pepper and Percy had taken of their fly masks (and I found them and put them back again). Calinka was whining at me – seems as she wants us to play.
http:///ullekalv.se/wp-content/uploads/2015/09/ullekalv_header_logo.png
0
0
Ingrid Amadori
http:///ullekalv.se/wp-content/uploads/2015/09/ullekalv_header_logo.png
Ingrid Amadori
2013-07-05 16:02:00
2013-07-05 16:02:00
Veterinärbesök