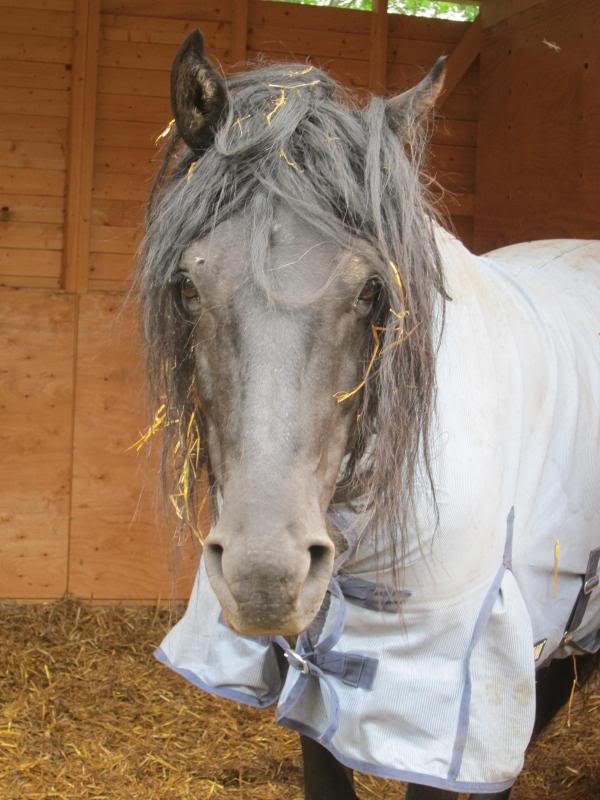 Pepper was sleeping when I arrived…
Pepper ben var än mer svullet idag så det blev till att ringa veterinär. Tyvärr har min ordinarie semester. Jag hittade i alla fall en veterinär som tyckte jag skulle kyla benet och motionera hästen lite. Kylningen hjälpte lite för ögonblicket, Pepper stod snällt stilla medan jag spolade benet och longerades gärna och ser inte halt ut, bara lite stel pga svullnaden. Imorgon kommer veterinären förbi.
Calinka var också något svullen i vänster grannen, men mer som att hon trampat snett. Nåja, hennes tur med Maria blev inställd idag.
Swollen legs
Peppers leg was more swollen today so I had to call the vet. My usual one is on vacation but I found another one. He thought that I should try to cold the leg and work the horse a bit. Pepper stood kindly when I used cold water on his leg that helped for a short while and enjoyed being lounged. He didn't even look lame, only a bit hindered to bend the leg ( because of the swelling in the hock). Tomorrow the vet comes by.
Calinka was also a little swollen in her right front leg, as if she had made a bad step on the pasture. Well, that got her out of the trail ride with Maria today.
http:///ullekalv.se/wp-content/uploads/2015/09/ullekalv_header_logo.png
0
0
Ingrid Amadori
http:///ullekalv.se/wp-content/uploads/2015/09/ullekalv_header_logo.png
Ingrid Amadori
2013-07-04 16:55:00
2013-07-04 16:55:00
Svullna ben