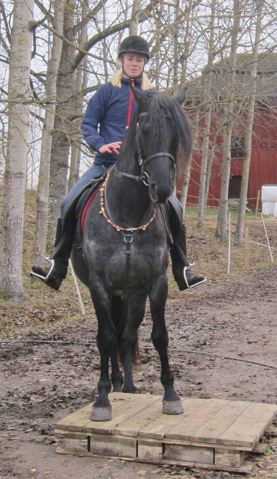 Calinka blir lätt kantig, halt till och med om man inte sköter henne noga med rätt arbete och värme (=täcken). Men i år vet jag inte vad som hänt. Pepper har sett lite konstig ut några steg då och då, men med täcke blev det bättre och jag har också tagit det som att han haft lite svårt med koordinationen då han plötsligt börjat hitta tölten igen. Idag var han däremot inte alls som han skulle och det blev inte heller bättre som det blivit tidigare gånger.
Däremot var han pigg och busig och lyckades få mig att flyga av medan jag jobbade honom ett tag för att se om det skulle släppa. Allt för att jag lät honom ta sig över ett dike som han gillar och efteråt blev han så glad och stolt att han var tvungen att bocka. Det har han inte gjort förut och eftersom jag gav honom långa tyglar för att balansera hoppet över diket bättre hade jag ett dåligt läge när han tog ett glädjeskutt. Nåja, jag slog mig inte och för första gången stannade Pepper kvar och nästan kom tillbaka till mig.
Maria har tyckte att Percy inte heller varit sig lik och när vi tittade på henne gick inte heller hon helt rent med bakbenen… Jag undrar vad de gör i hagen?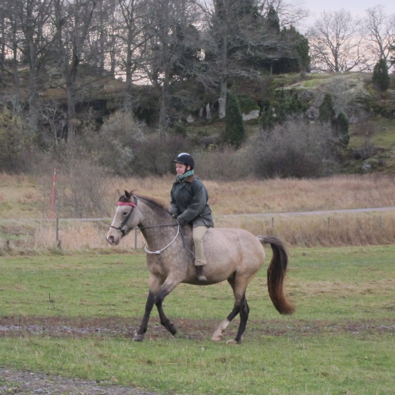 Maria goes bareback.
Nåja, nu blir det täcke och några dagars vila för Percy så får vi se om det hjälper och Pepper blir nog liknande och eventuellt arbete från marken. Samt att jag ska känna igenom båda hästarna innan de jobbar en dag. Annars får jag tillkalla lämplig person att kolla på dem, när det gäller Pepper tror jag nu mer på kiropraktor eller massör än veterinär, men gällande Percy har jag ännu inte fått någon riktig känsla.
Stiff horses
Calinka easily get stiff and even lame if not cared for properly (right kind of exercise and rugs). But this year I don't know what. Pepper has looked a little bit strange a couple of steps at some times, but got better with a rug . I also thought he had problem with coordination as he just started to offer more gait under saddle and got better as soon as he got warmed up. But today he was worse than ever and didn't seem to improve.
But he had a lot of energy and while trying to see if he would get better by time he got me on the ground. Just as I let him enjoy himself and pass a ditch that he likes; afterwards he got so happy and proud that he had to buck. He hasn't done that there before and therefore I gave him long reins to balance his passing the ditch better. When he then bucked once I didn't stay on board.Well, I didn't get hurt and for the first time Pepper stayed and nearly came up to me.
Maria has thought that Percy hasn't been moving perfect lately and when I looked at her I confirmed her feeling, her hind limb didn't look 100%. I wonder what they do in the pasture?
So, now Percy got a rug and a couple of days of and then we watch her again. Pepper probably get something similar, maybe with some work from the ground added. If this doesn't work out I have to call someone to check them; when it comes to Pepper I thin it is more something for a chiropractor but I haven't got a feeling about Percy'
s problem yet.
http:///ullekalv.se/wp-content/uploads/2015/09/ullekalv_header_logo.png
0
0
Ingrid Amadori
http:///ullekalv.se/wp-content/uploads/2015/09/ullekalv_header_logo.png
Ingrid Amadori
2013-10-31 21:08:00
2013-10-31 21:08:00
Orena hästar