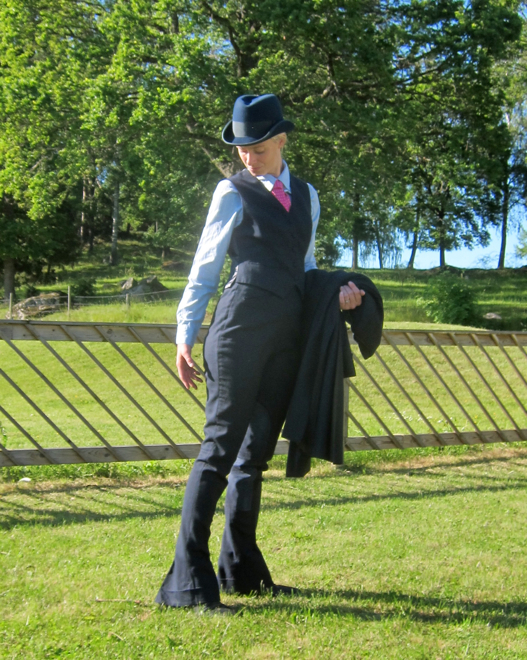 Om man nu ska till Falsterbo Horse Show måste man ju ha passande kläder… Det här är vad man har på sig i USA när man visar Rocky (och vissa andra gångartsraser).
Jag har valt en suit – det vill säga ett 3 delat sett i samma färg med jodpursbyxor, väst och rock. Det går även att köpa alla delar separat och ha en betydligt färggladare rock (ofta kallad day coat) och/eller väst. Till det bärs ofta en vit skjorta där kragen kan knäppas ner, men andra färger går också bra. Håret hålls uppsatt och ofta i ett hårnät. Jodhpursridbyxorna är extra långa för att se snygga ut när man sitter i sadeln vilket gör att man kan få fästa upp dem när man inte rider för att inte trampa sönder dem. På fötterna har man jodhpursskor.
Hur man får tag på den? Det borde ju vara enkelt – de kallas "engelsk utrustning"… Nåja, efter lite sökande på internet och flera flera affärer som inte skickar utanför USA hittade jag en som sålde begagnade "kostymer". Saddelseat suit kallad i USA. Efter massor av måttande på mig, frågor och omräknande i inches beställde jag detta… Måste säga att det passade förvånansvärt bra! Jag fick till och med precis vad jag ville ha (en marinblå kostym, rosa slips och en homburg hatt) till ett pris som var helt ok – om man jämför med vad de KAN kosta.
If going to Falsterbo Horseshow you need to have good clothes… This is what is worn in USA while showing Rockies (and some other gaited breeds)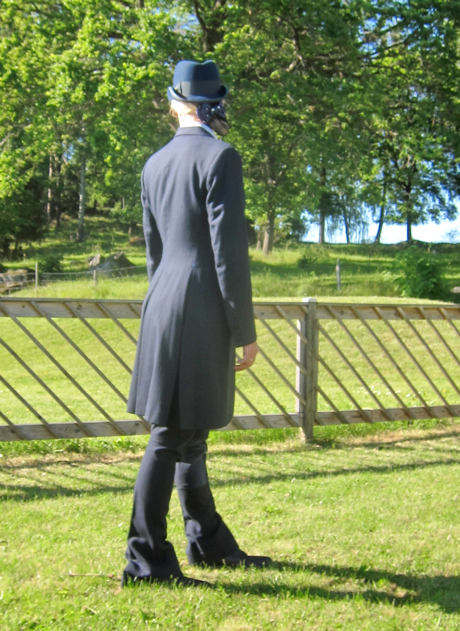 I chose a suit – a 3 piece "kit" in coordinated colors, jodhpurs, west and coat. All pieces can be bought separately and a much brighter and colorful coat and/or west used. Often a white button-down shirt is worn with this, but it can be in other colors as well. The hair is tied up, often in some kind of a hairnet with a bow. The jods are very long to look good when in the saddle. Therefore it can be wise to tuck them up while on the ground as they can be broken otherwise. Jodhpurs shoes for the feet.
How to get one? It should be easy as they are called English apparel… After some internet research and some stores that don't ship outside of USA I found one that sold used ones. After a lot of measuring, questions and conversions from centimeters to inches I ordered this one. I am surprised about how well it fits! I even got exactly what I wanted (a navy suit, a homburg hat and a pink tie) and not that expensive compared to what they can cost.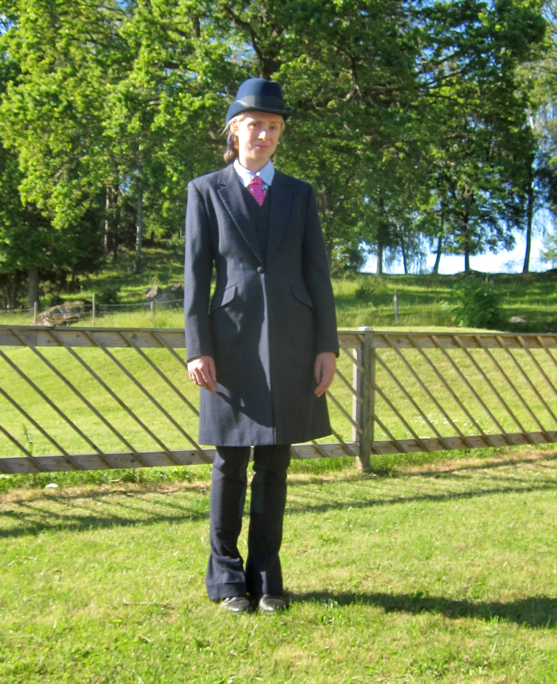 http:///ullekalv.se/wp-content/uploads/2015/09/ullekalv_header_logo.png
0
0
Ingrid Amadori
http:///ullekalv.se/wp-content/uploads/2015/09/ullekalv_header_logo.png
Ingrid Amadori
2014-06-10 20:19:00
2014-06-10 20:19:00
Saddelseat Suit