I helgen var det julmarknad på Ekenäs. Det både ger ovanliga träningsmöjligheter och begränsar. För det första är det svårt att nå hästarna utan att gå in på marknadsområdet, att komma ut med häst är ännu svårare… Ridvägarna blockeras till viss del av besökare och bilvägen är väldigt trafikerad. Dessutom vill jag på inget sätt riskera att ställa till en olycka så jag måste vara försiktig.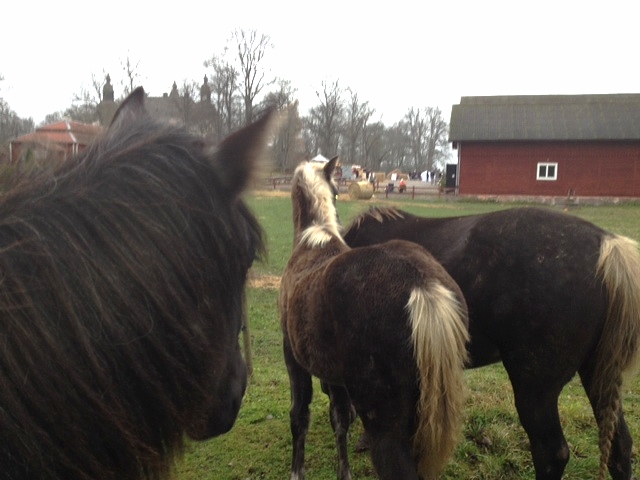 Tea, Mira & Bunny look at the market.
Calinka och jag lyckades ta oss ut när det öppnade på lördag morgon. Däremot visade tant sin sanna sida och blev så nervös att vi fick skritta över vallen för att passera och inte vara en fara i trafiken. Hon var dessutom extra pigg hela turen och ökade mer i galoppen än vi gjort på flera år. Jag gissar att hon hade bra träningsvärk på söndagen. Tea fick följa med för att kolla på folk och tog det lugnare än Calinka. Hon behöver träna mer innan jag kan ta in henne helt bland folk men var ok på lite avstånd.
Söndagen fick Bunny tömköras i området och skötte sig bra medan Percy överraskade och var lite stressig när jag red nära folket som gick från parkering till marknad. Vi tog en annan väg och även hon hade mängder av energi. Kanske det som spökade?
Frida tog Pepper en vända och han lär ha blivit intresserad av allt som hände och sökt sig däråt.
Christmas market
This weekend the traditional Christmas market were held at Ekenäs slott. It both gives some special opportunities to train the horses and makes it harder to work them. First of all it is hard to get the horses somewhere as the market blocks the way to bring them anywhere… Some of the trail roads is filled with cars and visitors. And I don't want to cause an accident my any way so I have to be careful.
Calinka and I managed to get out at Saturday morning before it all started. But she showed her true side – getting all worked up about the people that had start to arrive so we had to pass far away from it and couldn't be on the road as she would have been a hazard to herself. She had a ton of energy during all the ride and cantered faster than we have done in years when she got the chance. I guess she had some training related pain at Sunday. Tea got on a short walk to look at the place. She was less tense than Calinka. She needs more training before I can bring her closer, but was ok wit some distace.
At Sunday I long reined Bunny close by while Percy surprised me and got a bit tense close to the visitors. So we changed the road and she had a ton of energy. Maybe that was what got her a bit tense?
Frida took Pepper for a ride and she said he got interested into it and wanted to get closer.
http:///ullekalv.se/wp-content/uploads/2015/09/ullekalv_header_logo.png
0
0
Ingrid Amadori
http:///ullekalv.se/wp-content/uploads/2015/09/ullekalv_header_logo.png
Ingrid Amadori
2014-11-18 22:06:00
2014-11-18 22:06:00
Julmarknad