Hemma väl sent och det kommer att bli för lite sömn i natt. MEN, vad gör väll det när jag ridit två bra dressyrpass? Calinka var stel, gräsbanan förädiskt hal, men vi lyckades lura underlaget. Testade framdelsvändning som jag nästan aldrig gör på ett infall och denna gång hjälpte det, jag kände hur något "släppte" direkt efter övningen. Galopp brukar krävas för att få ryggen att börja svinga i traven men det var för halt. Tills jag kom på att det gick att galoppera ungefär en kortsida. Det var vad som krävdes, ryggen kom igång och Calinka vart trevlig igenom jobbad!
Percy var näst på tur. Fokus låg på böjning och ställning eftersom jag sett hur hon fuskar vid tömkörning. Det kändes som jag fick till även henne, även om hon inte "ger efter" lika tydligt som Calinka. Däremot fick jag faktiskt ett par slick /tuggningar och det är bra för henne. Först var det jobbigt när jag höll mer kontakt och hon hade nog velat springa ifrån mig. Men, sedan kom hon in i det hela och kom att öka och minska volten bra. Dessutom blir tölten riktigt bra när man jobbar så! Härligt!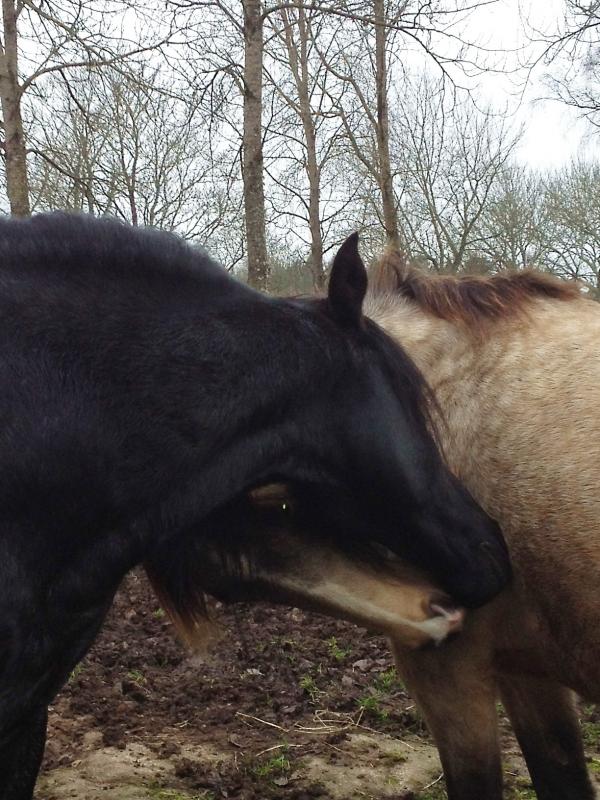 Pepper & Percy
Självklart jobbades båda hästarna barbacka vilket tränar min koordination och sits. Percy visade tydligt att jag kanske inte var riktigt så rak som jag trodde, eller så korrekt i hjälpgivningen. Lite små ändringar från mig och hon gick mycket bättre.
Dressage – so much joy!
Home (to) late and it is probably going to be to little sleep tonight. BUT, does it matter after manage to get good results with to horses in dressage? Calinka was stif and the surface slippery but we manged to do good work any way- I tried a excersice that I rarely do and that got her to loosen up a little. She usually needs canter to get her back to swing in trot but I thought it wasn't possible. Until I noticed that I could do that in one corner. We didn't need more, she only needs to start to canter and that way I got her good trot! Good work.
Percy was next. I focus on bending as I have seen that she doesn't do that very well while long reining. I think that I got her to work much better, even if she don't show it as well as Calinka. But I got a couple of licks and that is good from her. First she found it hard when I kept a little more contact and probably wanted to run away, but then she got into it and started to work nicely. She made the circle bigger and smaller rather easily. Her gait gets even better working this way. Nice!
Of course both horses were ridden bare back. That helps my balance and coordination. Percy showed clearly that I wasn't as straight as I thought and that my aids lacked. With some adjustment it all worked out much better.
http:///ullekalv.se/wp-content/uploads/2015/09/ullekalv_header_logo.png
0
0
Ingrid Amadori
http:///ullekalv.se/wp-content/uploads/2015/09/ullekalv_header_logo.png
Ingrid Amadori
2014-12-10 00:17:00
2014-12-10 00:17:00
Dressyr – så kul!