PSSM – Polysaccharide Storage Myopathy
För ett par veckor sedan dök en diskussion upp på olika Rocky-forum på internet. De rörde sjukdomen PSSM – Polysaccharide Storage Myopathy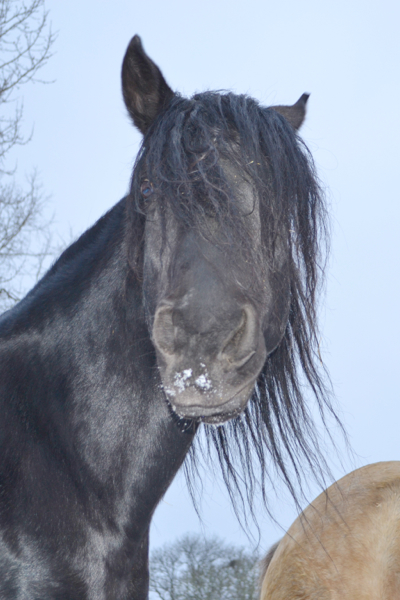 . PSSM är sedan tidigare känd från ett tjugotal raser, främst kallblod och vissa amerikanska raser som Quarter. Nu visade det sig att några Rockys hade testat positivt för sjukdomen efter att de uppvisat symptom.
PSSM är en musklesjukdom som innebär att glykogen lagras på ett onormalt sätt i musklerna. Det i sin tur gör att hästen lätt får korsförlamning. Idagsläget känner man till en genetisk orsak för sjukdomen som man kan testa för. ( Det finns även hästar som får korsförlamning som inte har den genvarianten). Tyvärr räcker det med en uppsättning av den kända genen för att hästen ska kunna få problem. Olika individer verkar drabbas olika kraftigt.
Eftersom det är så nytt vet man ännu inte hur stort problemet är hos Rockyn. Det är färre än tio hästar som testat positivt och dessa är alla nära släkt. Hur många som testats med begativt resultat vet jag inte, men troligen har få testat om man inte misstänkt problem. En stor del i behandlingen av PSSM består i att hästen inte ska äta kraftfoder och inte bästa kvalitén på grovfoder samt motioneras regelbundet. Eftersom många Rockys hålls på lösdrift och inte serveras kraftfoder kan det finnas drabbade individer som man inte märker har probelm eftersom de redan behandlas på ett sätt som minskar symptomen. Även hästar som uppvisat problem kan bli mer eller mindre symptomfria med rätt omhändertagande och kan fungera bra som ridhästar.
RMHA har reagerat kraftigt på vad som framkommit och arbetar på att se till att de som testar kan göra detta och få det registrerat i rasförbundet. De har även gjort ett
formellt uttalande
om hur de ser på saken och där det hela förklaras mera i detalj.
I och med detta kommer troligen PSSM statusen hos Rockyn bli mera känd, flera uppfödare säger att de tänker testa sina hästar så fort RMHA har fått till sin lösning eller tidigare om det tar för lång tid. Först när många hästar testats går det att avgöra om det är ett litet eller stort problem.
Personligen kommer jag att testa mina avelsdjur så fort de meddelar hur de vill att man ska gå tillväga och senast innan de avlas med nästa gång. Skulle någon av mina hästar visa sig ha genen kommer den med största sannolikhet inte bli kvar i avel.
This is a post about that PSSM has been found in the Rocky breed. RMHA has written a statement about where they stand. I plan to test my herd when RMHA got all details set and before breeding begins. If any of my horses has the gene they probably is removed from further breeding.
http:///ullekalv.se/wp-content/uploads/2015/09/ullekalv_header_logo.png
0
0
Ingrid Amadori
http:///ullekalv.se/wp-content/uploads/2015/09/ullekalv_header_logo.png
Ingrid Amadori
2015-01-26 17:34:00
2015-01-26 17:34:00
PSSM – Polysaccharide Storage Myopathy