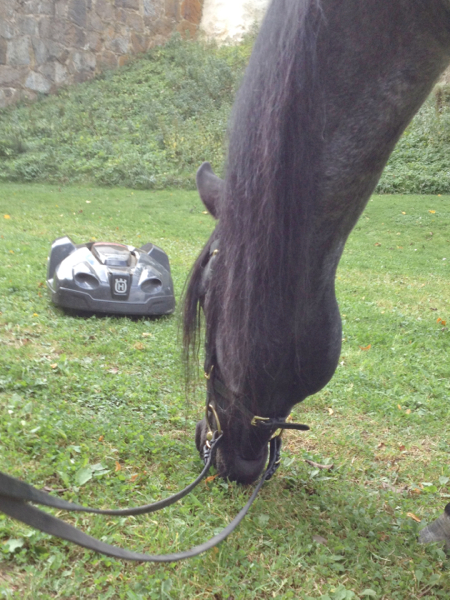 Robotgräsklipparen är det första som jag upplever verkligen stör hästarna. Calinka, Pepper, Percy, Fiona, Mira. De som råkat stöta på den tittar och fnyser och vill helst ge sig av. Men så hade vi den där fotosessionen och plötsligt hade vi roboten kring fötterna. Precis efter att jag tog detta foto fick jag dra upp Peppers huvud så att han inte skulle bli påkörd… Han verkar ha vant sig. Mira och Sweetheart var också med och de klarade det också bra.Så, jag antar att den inte var så farlig trots allt.
The most scary thing
This automatic grass-clipper is the first thing that I really have noticed scares the horses. Calinka, Pepper, Percy, Fiona, Mira. All that meets it looks at it, huffs and wants to get away. But then we had this photo session and had to share space with it. Right after I took this photo I had to get Peppers head up so he didn't get run into… Seems as he has gotten used to it. Mira and Sweetheart also had it around and didn't react much more either. So, I guess it wasn't that bad.
http:///ullekalv.se/wp-content/uploads/2015/09/ullekalv_header_logo.png
0
0
Ingrid Amadori
http:///ullekalv.se/wp-content/uploads/2015/09/ullekalv_header_logo.png
Ingrid Amadori
2015-09-29 18:00:00
2015-09-29 18:00:00
Läskigaste saken av allt