Första jobbdagen efter semester, någon halvtimme efter att jag kommit till jobbet:
Mannen ringer: "Har du en brun häst med lite vitt på benen och på nosen?" Min man är ingen hästmänniska och har definitivt inte full koll på mina betäckningsston nu på sommaren.
"Den står här utanför, bredvid Pepper och hans betäckningsstos hage…"
Jag skickade en bild på den enda bruna häst jag har på besök nu, även om det inte lät som den. Ringde sedan en granne för att se om hon kunde hjälpa till att identifiera hästen. Strax efteråt kom nästa samtal, då hade det visa sig vara en valack eller hingst och han och Pepper hade börjat bråka över staketet… Mannen fick springa ut med långpisken och försöka hålla hästarna isär medan hjälp var påväg. Som tur var kom hästens ägare och grannen snabbt. Så klart var det en treårig varmblodshingst. (Tur han inte hoppade in!). Hingstarna sprang längsmed staketet och matade sparkar mot varandra när de fick chansen. Eller stegrade, tydligen landade de med frambenen på trästaketslanorna flera gånger… Staketet höll, även om ett par slanor gick sönder, och vid ett tillfälle stod de stilla och så att mannen kunde fånga in Pepper. Sedan följde han snällt honom och när han ringde mig under promenaden tipsade jag om att ställa honom i boxen. Under tiden fångades den andra hästen in och leddes iväg.
Choken kom nog främst i efterhand för min man – vad hade hänt om ingen varit hemma? Eller om barnen varit ute i trädgården när den andra hästen sprang runt där i full fart? Eller om Pepper inte hade uppfört sig så väl när han blev infångad? Eller om staketet inte hållit och han kommit in i hagen? Eller…
First day after vacation, after about half an hour at work:
My husband called: "Do you have a bay horse with white on feet and nose?" My husband isn't a horseman and don't have full insight into visiting mares now during the Summer.
"It stands here, just outside Pepper and his mares pasture"
I sent a picture of the only bay mare I have at home, even if it didn't sound as that mare. I called a neighbor to see if she could help my husband to identify the horse. Then I got the next call of many: the horse had turned out to be a male and it was fighting with Pepper from its side of the fence… My husband ran out and tried to keep them separated with a lounging whip until help arrived. Luckily both the horse owner and the neighbor I had called showed up shortly afterwards. Of course the horse was a three year old warmblood stallion. (Happy he didn't jump the fence!) The stallions ran along the fence, occasionally stopping to try to fight. Kicking at each other and sometimes rearing – some times they even landed on the fence (wood fence). The fence stayed intact even if a few planks had to be changed afterwards. At one time the horses stood still and my husband could catch Pepper and get him into the stall. Pepper behaved perfectly. During that time the other horse was caught and walked away.
I guess the worst part came afterwards for my husband. What had happened if no-one was at home? Or the kids had been in the garden while the warmblood ran around? Or if Pepper hadn't behaved while being caught? Or if the fence hadn't held up? Or…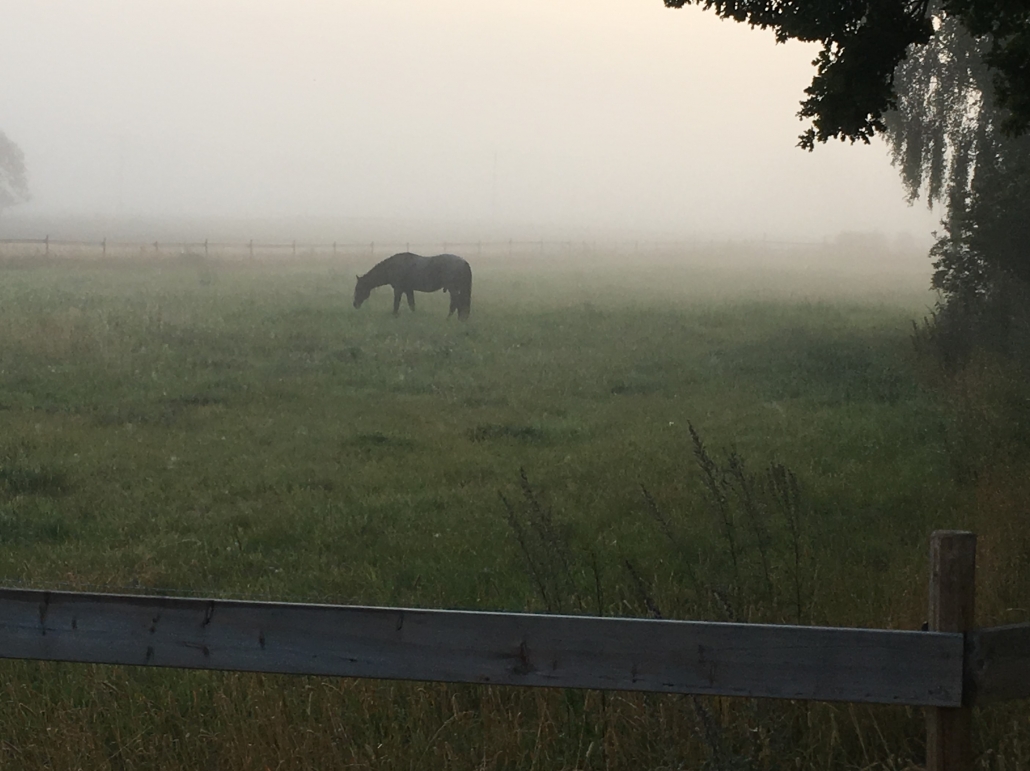 http:///ullekalv.se/wp-content/uploads/2015/09/ullekalv_header_logo.png
0
0
Ingrid Amadori
http:///ullekalv.se/wp-content/uploads/2015/09/ullekalv_header_logo.png
Ingrid Amadori
2019-08-08 21:25:58
2019-08-08 21:26:01
Lös häst på besök