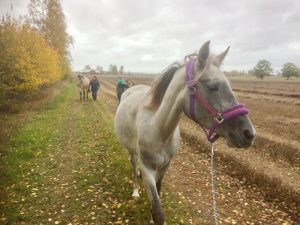 Igår var det RMHAs årliga Pink Ride. Det har varit lite dåligt uppslutande från min sida de senaste åren och i år planerade jag inget.
Men, så kom Maggan och en kompis till henne förbi så vi tog med unghästarna och min bebis i vagnen på en promenad. Däremot blev det inte något rosa på hästarna eller människorna. Men en trevlig höstpromenad. Den första för Honey i trakten och en väg som Iris och Whizzy inte sett innan. De skötte sig alla bra även om Iris var tvungen att kolla med Maggan vem som var ute med vem. Vi såg ett par ponnyer, flera hus längs med vägen och en bil, en skällande hund och så skogen så klart med lite vattenpölar.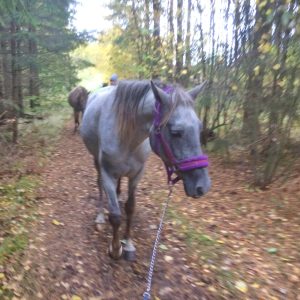 Förhoppningsvis kan det bli en mer rosa ritt nästa år.
Yesterday was RMHAs annual Pink Ride. I haven't been very active latest years and this year I didn't even plan anything. But, then came Maggan with a friend so we took the youngsters for a walk( including my baby boy in the stroller).  Neither horses nor humans wore anything pink but we had a nice time anyway. It was the first look at the surroundings for Honey and a new road for Iris and Whizzy. They all did great even if Iris had to ask Maggan who was walking who. We saw two ponies, some houses, a barking dog, a car as we followed the road and of course the Forrest and some water puddles. In only about 30 minutes.
http:///ullekalv.se/wp-content/uploads/2015/09/ullekalv_header_logo.png
0
0
Ingrid Amadori
http:///ullekalv.se/wp-content/uploads/2015/09/ullekalv_header_logo.png
Ingrid Amadori
2017-10-15 08:56:52
2017-10-15 08:56:52
Pink Ride 2017