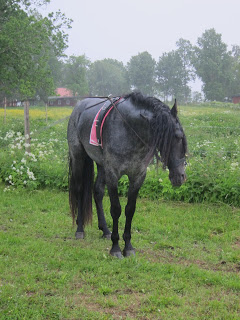 Mimmi och jag skulle äntligen lyckas sammanstråla i stallet och jobba Pepper lite… Det blev tömkörning och jag började. Pigg häst, men duktig, han ville så mycket. Sedan kom regnet. Det öste ner (kolla Mimmis hår, vi var inte ute länge…) Mimmi fick ta över men vi gav upp ganska snart då Pepper inte tyckte att det gick att röra sig i regnet – och vi förstod honom. Medan vi väntade ut regnet gick vi till stona som slutat springa runt i regent och gått in under tak.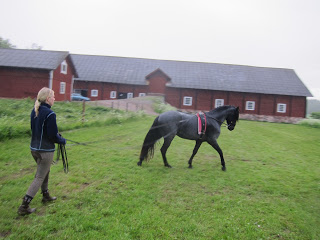 The headset is not due to hard hand but rain.
När jag hade tänkt åka hem insåg jag att vädret var bra (och jag genomblöt). Varför inte ta en kort vända med stona? Calinka har mage så det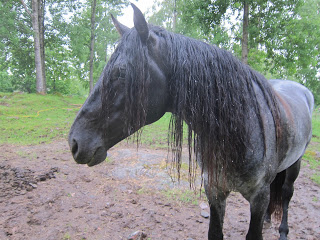 Wet
räcker och blir över, Mika behövde röra på benen och tja, Percy kunde väll få följa med… Så det blev en härlig tur i betydligt finare väder, kanske 30 minuter. Såg massor med otäcka, bräkande få en bit bort, men annars ok. Mimmi fick prova på Percys gångarter för första gången. Vad jag såg (över axeln, barbacka i trav med hund i andra handen) så var det lite tölt och lite foxtrot. Sedan tog vi en galopp. Percy kan inte galoppskänkel ännu så jag bad Mimmi tänka galopp – och jovisst. De kom lite efter (ingen fara enligt Percy) så jag hann stanna och se leendet över Mimmis ansikte när hon sakta de in. Samma leende som Maria hade första gången hon galopperade Pepper. Man vill liksom inte sluta galoppera på de där hästarna och ser barnsligt fånigt lycklig ut…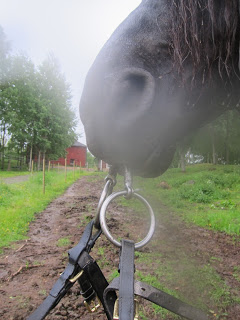 Pepper didn't want to let go of the bit…

Mimmi and I had finally managed to be in the stable at the same time and work Pepper…It became long reining and I started. He had some energy, worked well, wanted a lot. Then it started to rain. It poured down (look at Mimmis hair, we wasn't out long…) Mimmi took over but we gave up rahter sudeen as Pepper didnät like to move in the rain – and we understood him. While we waited for the rain to stop we cuddles with the mares indoors.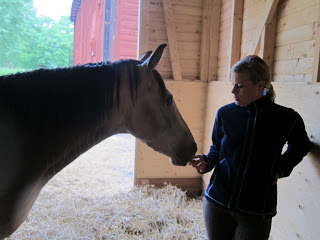 When I had planed to go home I realized that the weahter was much better (and I soaking wet). Why not make a short trip with the mares? Calinka is round enough, Mika needed to move her legs and, well, Percy could join… We had a nice time in a much better weahter, maybe 30 minutes. We saw a lot of scary, loud sheep, ut nothing else. Mimmi get to try Percy's gaits for the first time. According to what I could se(over my shoulder, trotting barback with a dog leash in one hand) Percy gaited a bit but also tried some foxtrot. Then we cantered. Percy hasen't been taught canter aids so I told Mimmi just to think canter – and it worked. They got a little bit behind (ok accoring to percy) so when I stoped I got a glimpse of the smile all over Mimmi's face when she stopped. The same smile that Maria had the first time she canterd Pepper. You really don't want to stop canter any of those horses and get such a silly smile…

http:///ullekalv.se/wp-content/uploads/2015/09/ullekalv_header_logo.png
0
0
Ingrid Amadori
http:///ullekalv.se/wp-content/uploads/2015/09/ullekalv_header_logo.png
Ingrid Amadori
2012-06-14 17:17:00
2012-06-14 17:17:00
Spöregn