Den här veckan blev mannen tvungen att akut jobba på sin båt som han försummat för att bygga lösdrift till mig. Därför har jag blivit tvingad att vara hemma själv på kvällarna och lämna över hästmotionen till andra. Så, vad gör man inte; jag har målat dörrarna till en dörr på lösdriften, snickrat på en selhängare och så fixat schabrak och sadelöverdrag till Isacs sadel. Dessutom insåg jag att det visst är betäckningsrapporter som ska skickas in. En omgång till SH och en till RMHA.
…och dessutom har jag hunnit skämma bort mig själv lite med godis och extra vård av händer och fötter. Det är inte heller så dumt då och då…
This week my husband just had to work with the boat that he has neglected to build my shelter. Therefore I had been forced to stay at home during the evenings this week and let others exercise the horses. But, I haven't been unemployed; there was doors to the shelter that needed to be painted, a hanger for Isac's saddle that needed to be made as well as a saddle pad and a saddle cover. And I realized that both RMHA and SH, the register in Sweden that I have to use to get passports want stallion breeding results sent.
…and I have also found time to spoil my self caring for hands and feet and some candy. Not such a bad thing either….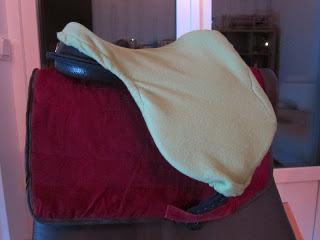 http:///ullekalv.se/wp-content/uploads/2015/09/ullekalv_header_logo.png
0
0
Ingrid Amadori
http:///ullekalv.se/wp-content/uploads/2015/09/ullekalv_header_logo.png
Ingrid Amadori
2012-09-13 21:49:00
2012-09-13 21:49:00
Knep och knåp