För första gången på länge var det ljust när jag kom till stallet på kvällen! Inte alls fel med tidsomställningen.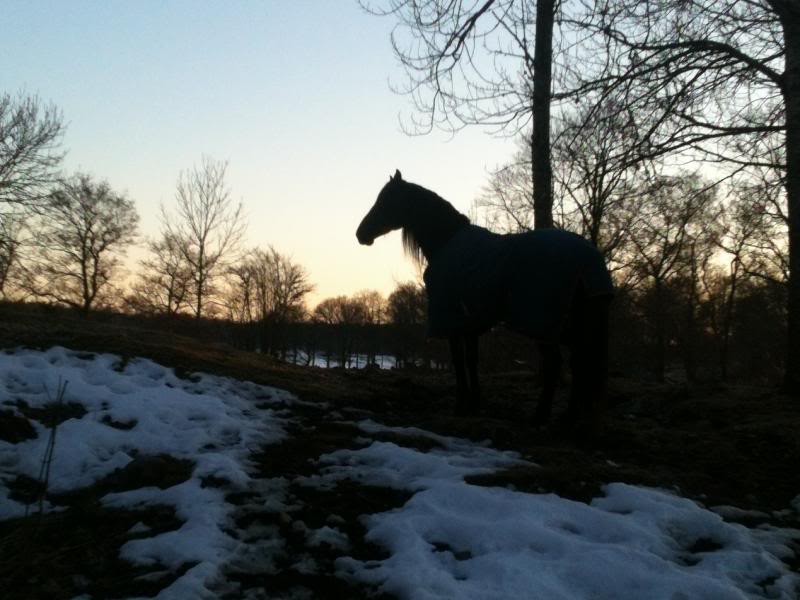 Nearly dayligth when I arrived – Pepper in his pasture.
För att njuta av den vackra dagen och ljuset

kunde jag inte motstå att ta Percy på en halvtimmes ridtur längs med grusvägen. Hon var helt som vanligt; skavet verkar ha läkt fint och sadelgjorden kom inte åt det denna gång. Hon töltade villigt framåt även om hon ännu inte är helt stabil i gångarten utan lätt växlar lite fram och tillbaka, särskilt nu då hon hittat traven lite i snön. Kul hade vi och det var inte ens mörkt när vi återkom.
Istället gjorde jag som jag tänkt och fixade iordning Pepper och tömkörde honom medan solen gick ner. Han börjar vara riktigt bra på sidvärtesrörelse på töm i skritt även om ridbanan var isig. Dessutom fick han mig att skratta högt när han inte kunde utföra öppna i högervarv – förrän jag tog staketet till hjälp – då började han göra dem innan han ens fick något stöd av det. Fältet fick återigen tjänstgöra för lite trav och galopp och även denna gång fungerade inte galoppen. Efter ungefär ett halvt varv blev han störd, bakbenen började nästan hoppa jämfota och så bröt han av. Undrar om det är den tunga snön eller faktumet att vi jobbade i en väldigt lätt sluttning som orsakade det hela. Eller något annat? Det gick i alla fall bättre när vi kom ner på plan mark och i vänster varv.
Calinka reds av Björn tidigare under eftermiddagen, tydligen var hon pigg och glad och svår att lugna ner på dressyrbanan – jag brukar ha motsatt problem. Tora red på Bunny och Nanette promenerade med, med Percy. När jag kom upp var Calinka väldigt kelig – jag tror hon blir allt mer som en Mountain-häst till sättet!
Lyckades även lämna in papprena för deklaration för att få hjälp med den. Det har varit så mycket strul att få igång företagande att det känns skönt att inte behöva tänka på deklarationsbiten med, särskilt inte första gången. Med tiden kanske jag orkar lära mig hur man gör själv – eller i alla fall kunna göra en del själv.
For the first time in a very long time it was not dark when I arrived to the stable in the evening! Summer time isn't a bad thing.
I couldn't resist enjoying the beautiful day and the light and quickly tacked up Percy and trail rode for half an hour. She was as usual, the scratch from the girth has healed well and the girth stayed away from it. She gaited voluntarily even if she is not fully settled in the gait and easily switches a bit between gaits; especially now when she has found her trot in the snow. We had a lot of fun and it wasn't even dark when we got back.
Instead I followed my planed and got Pepper prepared for long reining. We worked while the sun set. He starts to get really got at lateral movements in walk while long reining even if the arena was full of ice. He made me laugh when he couldn't do shoulders in to the right, but as soon as I got him against the fence he did it without problems and without using the support the fence offered. The field besides the arena once more got used for trot and canter work. The canter didn't work this time either; after half a lap his hind legs nearly started to jump as a rabbits and he got into a trot. It might be the heavy snow or that we worked with a slight height difference at the circle. Or something else? It was better at totally flat surface and the left lap.
Calinka was worked by Björn earlier in the day; she had a lot of energy and was hard to get to work slowly at the arena – I usually have the opposite problem. Tora "rode" Bunny and Nanette walked Percy a little. When I got there Calinka was very sweet and wanted to be cuddled – I think she becomes more and more like a Mountain horse.
I also managed to get all my tax pappers into a firm that are going to take care of that. It has been so much obstacles in the way to get the company started that it feels very good to have someone else to do this part.
Especially the first time. By time I might get the inspiration to learn – or at least to part of it by myself.
http:///ullekalv.se/wp-content/uploads/2015/09/ullekalv_header_logo.png
0
0
Ingrid Amadori
http:///ullekalv.se/wp-content/uploads/2015/09/ullekalv_header_logo.png
Ingrid Amadori
2013-04-04 17:41:00
2013-04-04 17:41:00
Det är ljust!