Staket och bad – bildbomb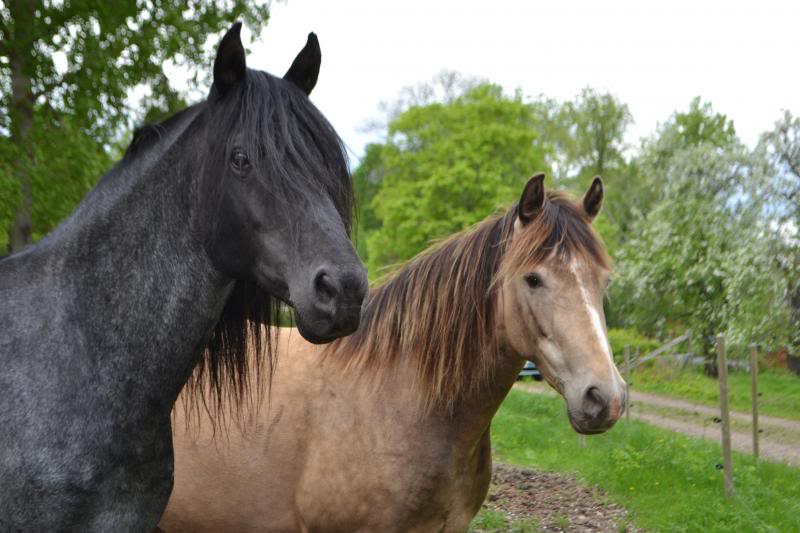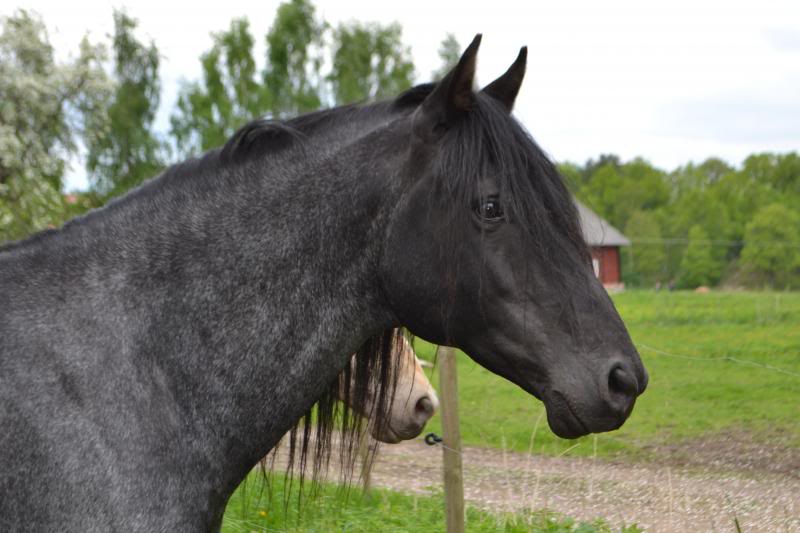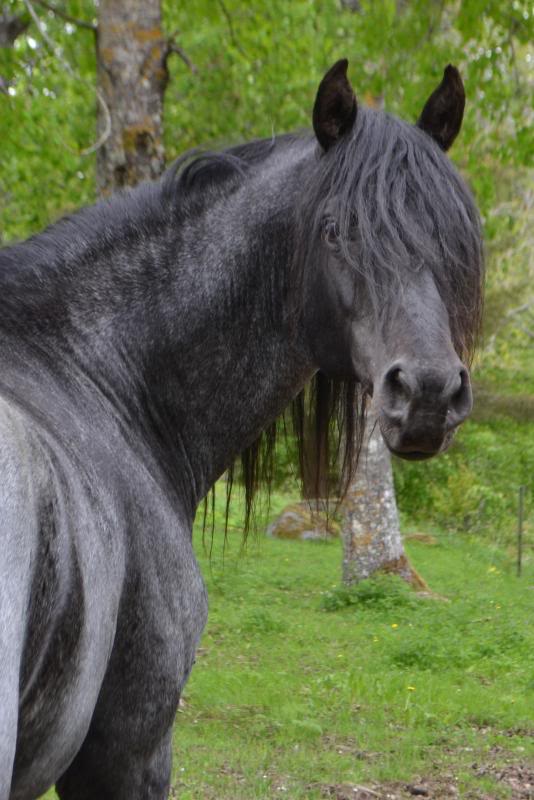 Min pappa och man roade sig med att försöka få ordning på elstaketet i söndags och från knappt någon ström alls är det nu 6.5 kV på övertråden. Nu ska vi bara göra några ytterligare justeringar och så kanske vi kan koppla på undertråden med… Det gäller bara att inte ta i staketet längre. Medan de jobbade tog jag det lite lugnt och borstade hästar i stallet. Alla har börjat bli bitna av insekter – värst är Bunny och Calinka. Kanske kan det bero på att de är smutsigast? Bunny har varit smutsig i pälsen sedan hon kom i augusti och Calinka svettas regelbundet när hon rids. Så – det blev dusch och schamponering för dem båda. Bunny först. Insåg när jag satte på vattnet att hon nog aldrig blivit spolad förut, men hon skötte sig bra trots att jag bara har tillgång till kallvatten. Kallvattnet är även anledningen till att de varken badas ofta och enbart varma dagar. Även Tea fick sig en omgång – inte för att det var planen, men för att vattnet har en tendens att blöta ner även andra saker än exakt det man har tänkt sig (även jag blev blöt). Efter att ha lagt täcken på båda två var det Calinkas tur. Hon var fånigare än Bunny visade det sig… Trots att tant duschat många gånger och är van sedan unga år. Nåja, även hon blev ren, fick ett varmt täcke och arnika på de områden där hon är känslig. Att skölja henne med kallvatten är aldrig optimalt, men om det hjälper tillräckligt bra mot bitande insekter så hon klarar sig ytterligare ett tag frånflugtäcke tror jag det kan vara värt det.
För en gångs skull hann jag även med att mocka lite i hagen och bara plocka lite med allt möjligt. Calinka har dessutom fått jobba med Maria under fredagen och Sandra under lördag och idag.
Tidigare i veckan vägde jag hästarna med viktbandet och de börjar alla vara ungefär där jag vill ha dem i vikt.
Om jag minns rätt:
Pepper: 460 kg (Några kilo till skulle inte skada när han någon gång börjar jobbas ordentligt)
Percy: 470 kg (Hon vägde ca 420 när hon kom… men hon ser inte tjock ut så det är ok.)
Bunny: 435 kg (Lite mer hopas jag hon går upp, men hon har redan ökat bra sedan fölningen då jag tyckte hon var väl tunn).
Calinka: 415 (Hon är äntligen gått ner till vad jag tycker är lagom)
Tea: 70 kg
Nu är ju viktband kanske inte helt tillförlitliga, men de ger mig ett hum om hur hästarna ändrar i vikt.
Fence and bath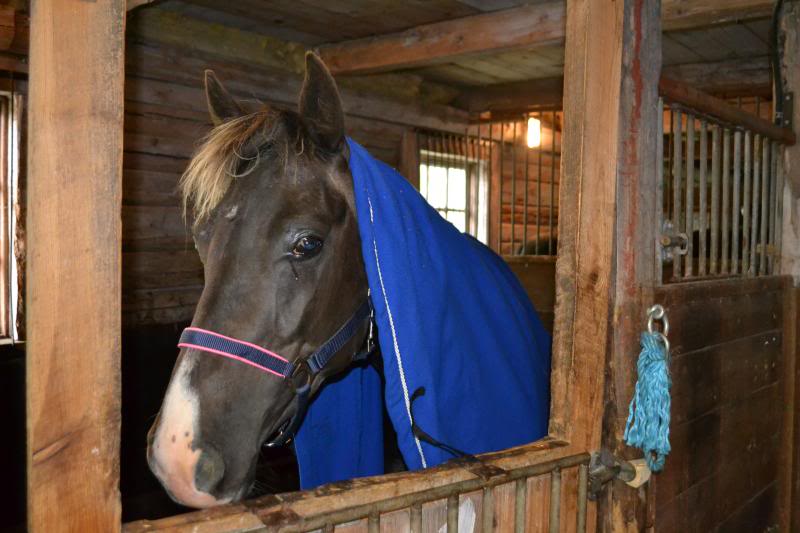 Drying up.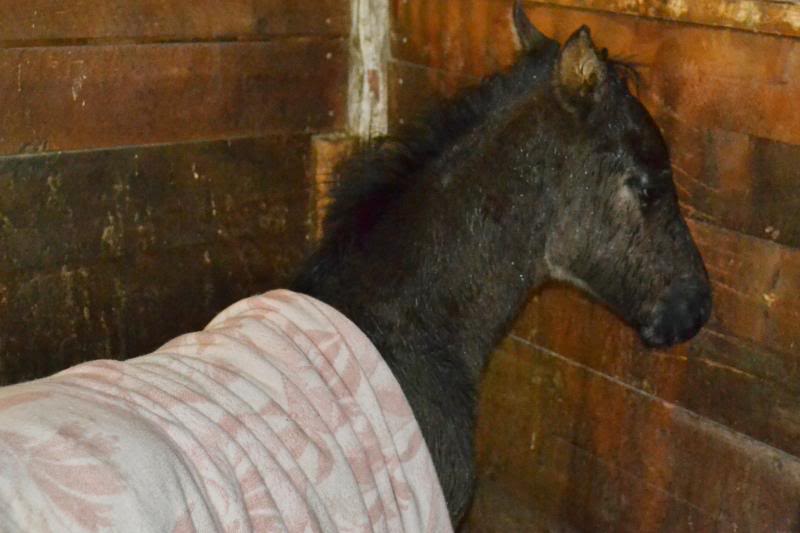 Tea got a blanket as well.
My dad and husband enjoyed themself by trying to get the electrical fence working this Sunday. From hardly being any current it is now 6,5kV in the upper thread. Some more small adjustments and we might get the lower threads to work as well… I just have to remember not to touch the fence now. While they worked I tried to be calm and brushed the horses. All have started to be bitten by insects – and worst is Bunny and Calinka. That might be because they are the dirtiest? Bunny hasn't been totally clean since she arrived and Calinka sweats often when being worked. So I showered and shampooed both of them. Bunny was the first one. I realized when I turned on the water that she might never have been showered before., but she behaved well even if it was cold water. The cold water is the reason why I don't shower them often and only when warm enough outside. Even Tea got some water on her – not because I planned it but because things close by also tends to get wet (including me as well). When both had gotten rugs to dry and warm up Calinka was next. She turned out to be worse than Bunny so shower – even if she has done that many times and got used to it while young. Well, she got cleaned, a warm blanket and some arnica at her sensitive parts. To clean her in cold water isn't perfect, but if it helps against insects so she can stay out of rugs a little longer it might be worth it.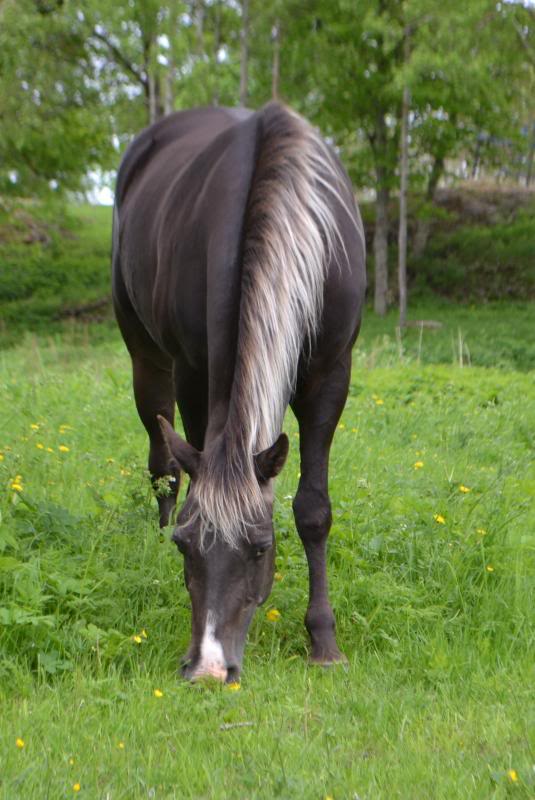 After cleaning.
For once I also got time to fix a lot of small things. Nice! Calinka has been worked by Maria during Firday and Sandra at Saturday and today.
Earlier last week I measured the horses with the weight tape. They starts to get where I want them to be.
If I remember correctly:
Pepper: 460 kg (A couple of more kilos wouldn't be wrong when he get more fit.)
Percy: 470 kg (She weighted about 420 when she arrived but she doesn't look fat so its ok.)
Bunny: 435 kg (I hope she gains some more, but she has already gained some since giving birth when she was a little to thin in my opinion.)
Calinka: 415 (She has finally lost some weight, which is positive).
Tea: 70 kg
The weight tape isn't the most reliable tool – but at least it shows changes.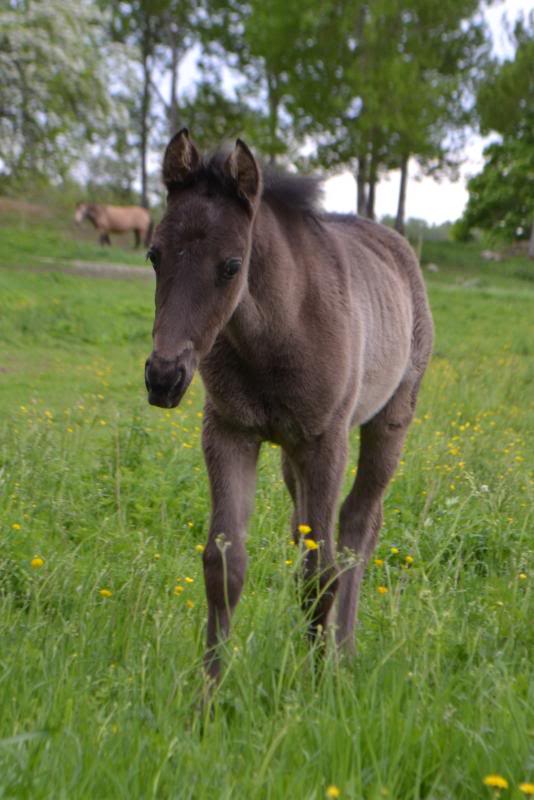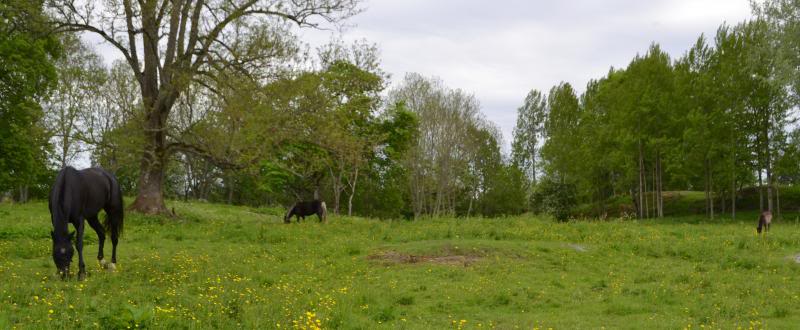 "I can be far away from mom".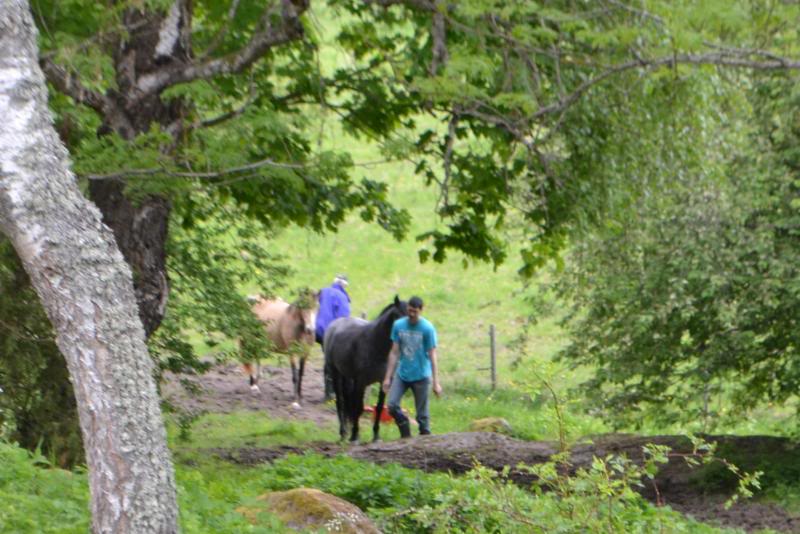 Curious horses – they didn't even come when I called them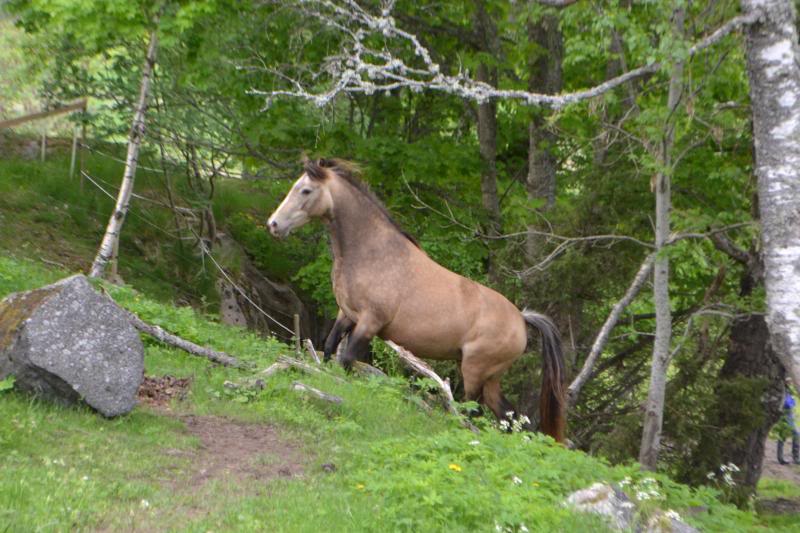 They finally decided to come…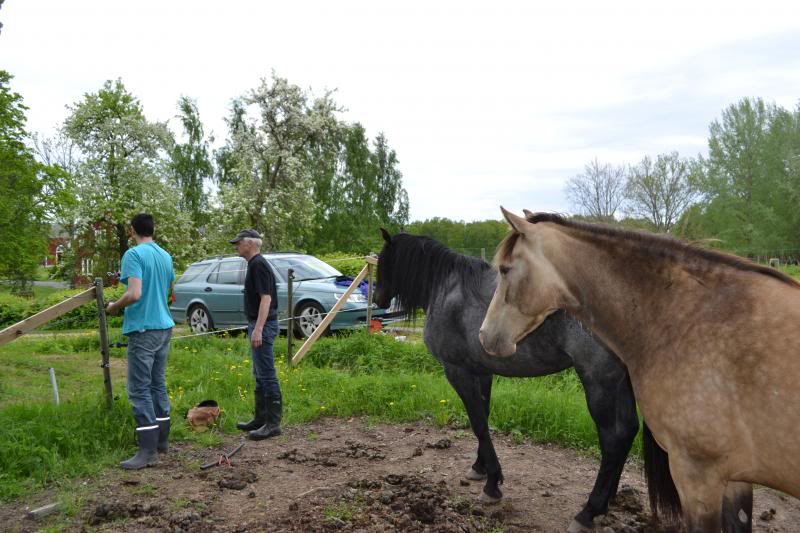 Helpful?
http:///ullekalv.se/wp-content/uploads/2015/09/ullekalv_header_logo.png
0
0
Ingrid Amadori
http:///ullekalv.se/wp-content/uploads/2015/09/ullekalv_header_logo.png
Ingrid Amadori
2013-05-27 21:35:00
2013-05-27 21:35:00
Staket och bad – bildbomb