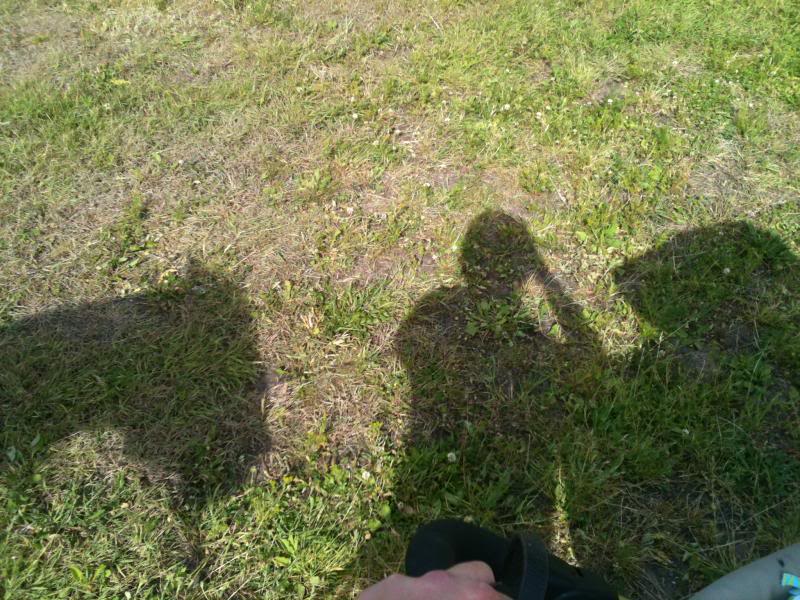 Pepper, me and the stroller with baby David
Som tur är har jag varit med en gång tidigare även om jag då inte hade dagligt ansvar för min häst. Trots allt har jag lärt mig lite tips och tricks sedan dess. För med en baby i stallet blir det speciella regler att följa. Babyns.
Förra gången lärde jag mig att bärselen var oumbärlig. Med dess hjälp gick det ofta att göra något även om barnet var vaket och inte ville ligga i vagn. Promenader och tömkörning fungerade utmärk, liksom mockningen och mycket pyssel i stallet med och utan häst. Däremot var barnvagnen oslagbar om man red – parkerad bredvid ridbanan var det bara att förbereda sig på att passet närsom kunde bli avbrutet och eventuellt avslutat. Nåja, som föräldraledig har man mycket tid och kan ofta vänta ut att babyn somnar eller blir på bättre humör – eller så får man göra det man tänkte nästa gång.
Sedan måste man vara lite flexibel – blöjbyte i bilen eller någonstans i stallet (stallgolvet?) liksom amning. Samt ha en stor bil så att allt man behöver kan packas in. Ett babylarm är inte heller fel så att man ibland kan lämna babyn i bilen eller sadelkammaren en stund om de sover. (Glöm inte att bilen blir VARM om det är varmt ute).
Snälla hästar är så klart också en förutsättning så att man kan ta dem på promenad med barnvagnen, eller att de känns säkra nog att ha med ett litet barn till i boxen. För det gäller att tänka säkerhet också och inte parkera barnvagnen där hästarna kommer åt den eller smyga sig på dem så att de i skräck sparkar. Därav är babylarmet väldigt bra, men det är ju inte alltid barnet i fråga sammarbetar.
I alla fall idag vart ett bra exempel på hur man kan få jobba:
Exteriörbilder inför registerering i RMHA skulle tas av Embla. Det gällde att passa på medan David sov i vagnen. Medan vi fotade och samtidigt hade första lektionen i att bli ledd av Embla sov han en bit bort. Innan jag han bli klar med Pepper vaknade han, somnade igen och vakande innan vi ens kommit ifrån stallet. På väg mot ridbanan vaknade han ytterligare en gång när jag kollade av Peppers humör för dagen. Han somande om efter lite mer rullande så snabbt upp på hästryggen, efter 3,5 varv i skritt var det dags att hoppa av. Otroligt nog räckte det med två och ett halvt varv där jag drog vagnen runt ridbanan och hade Pepper på släptåg. Snabbt upp igen och börja travjobba…. Det blev ett riktigt bra jobb, för första gången blev Pepper svettig och han blir lite bättre för varje gång. Dessutom visade han att han är min typ av häst – han snubblade och stod nästqan helt på näsan helt utan anledning. Varför ska alla mina hästar göra så? Av någon anledning verkar alla mina favoriter kunna snubbla på plan mark (och turligt nog vara mycket säkrare på foten i svårare terräng).
Väl tillbaka i stallet blev det matning av baby, påklädning av hästar (Tea lyckades behålla flugmasken på!) och så en kvarts promenad med Calinka innan bilen lastades för hemfärd. Bunny är förresten bra söt – hon gick och skrek för att hennes kompis försvunnit när Calinka var iväg – trots att hon hade dottern hos sig och de andra hästarna bara några meter bort. De till och med sprang och mötte oss när vi kom tillbaka.
Baby and horse
Luckily I have been around once before – even if I wasn't responsible for the everyday care of my horse at that time. Since then I have learned a few tricks as there becomes special rules to follows with a baby in the stable. The babys.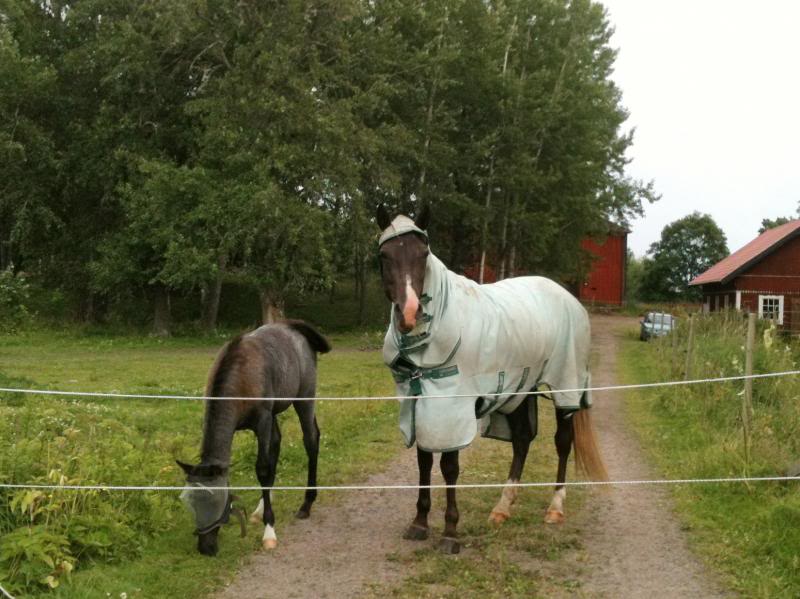 Bunny and Tea welcome us back
I learned that a baby carrier helped a lot. Then it was possible to do things even if the baby was awake and didn't want to stay in the stroller. Walks and long reining worked as well as cleaning the stable and do things in the stable both with and without horse. The stroller was perfect for the times in the saddle – parked beside the arena. I only had to prepare that I might have to end at any moment – or at least take a break. Well, while at maternity leave (that last for a very long period in Sweden compared to other many other countries) you have some time to wait until the baby falls asleep again, get into a better mood. And sometimes you only have to accept that you have to con
tinue the next time.
Then you have to be a bit flexible – changing diapers and breast feeding in the stable, the car or somewhere else… A big car might be needed to be able to bring everything needed for a couple of hours in the stable. A baby watch isn't bad either – then the baby can stay in the car or the tack rooms sometimes while asleep (remember the car get HOT if warm outside).
Kind horses is also good – the ones that won't spoke for the stroller and where the kid can be around safely. Cause safety if very important. Always thinking ahead and try to get the child out of the way of the horses. That is one more reason the baby watch is very good – if only the baby cooperates.
Today was a good example of how it can be:
We needed to get conformation photos for Embla's RMHA registration. We had to do that while David was asleep in the stroller. While he slept Embla got her first real lesson in how to be lead and got her photos taken. He woke up when we was nearly ready. The he slept again and I started to prepare Pepper to do some dressage. Then he woke, slept once more and woke up until we even had gotten out of the stable. He fell asleep while the stroller started to roll towards the arena, but woke up when I stopped to see Peppers status of the day and prepare to mount. He fell asleep again when we continued to walk so I mounted fast, but after 3,5 laps he woke up again and I had to get of. Unbelievably he returned to sleep after 2,5 laps around the arena in his stroller (Pepper following us) and I got back in the saddle. Even more unbelievably he continued to stay asleep and I got a really good job with Pepper. He is getting a little bit better each time. He also showed me that he is my type of horse – but falling and nearly not get back up with me still in the saddle. By some reason all my favorite horses seems to be clumsy when the ground is flat (and much better when rough terrain – thankfully).
Back in the stable the baby got food and I got the fly sheets back on the horses before I a took 15 minutes walk with Calinka and the stroller. By the way – Bunny is too cute – she had to call for Calinka while she was gone even if she and Tea by her side and the other horses close by in the other pasture. They even came cantering to say hello when we came back.
http:///ullekalv.se/wp-content/uploads/2015/09/ullekalv_header_logo.png
0
0
Ingrid Amadori
http:///ullekalv.se/wp-content/uploads/2015/09/ullekalv_header_logo.png
Ingrid Amadori
2013-07-23 21:04:00
2013-07-23 21:04:00
Baby och häst