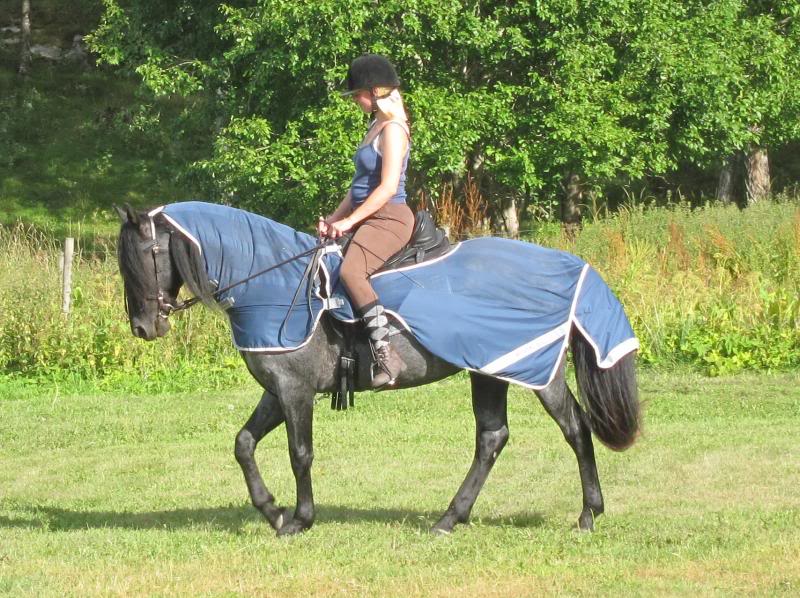 I tisdags var det äntligen dags att fixa Calinkas skor. Varken jag eller hovslagaren förstår riktigt hur hon kunnat slita så hårt på dem, de har nog aldrig sett så hemska ut. Percy behövde verkas, och fölen fick en översyn mest för att vänja sig. Som tur är var Björn med i stallet och kunde hålla i hästar eftersom David inte helt samarbetade. Björn tog även en skrittur med Calinka sedan. Isac red istället Pepper till ridbanan där jag övertog honom för några minuters dressyr innan David ansåg att det räckte och vi fick återgå till stallet och ta oss hem.
Embla stod för dagens överraskning – hennes första möte med hovslagaren och hon har inte fått fötterna lyfta många gånger. Hon fick lite problem med balansen – så hon la sig i mitt och Björns knä – det andra frambenen kom så snett att det omöjligt kan ha burit någon vikt. Panik? Nej, det var mest en slump att vi upptäckte att hon inte stod upp något framben… Och hovslagaren tyckte inte att det syntes mycket av hennes skeva ben!
Jag lyckades återfinna den flugmask som varit borta ett par månader i måndags. Den är nu mer rödaktig och inte svart… Calinka däremot hade lyckats förstöra två flugmasker på lika många dagar. Nu är alla lagade och åter i stallet. Fast, så klart har Tea tappat en mask och Pepper en annan…
Isac har tyckte det varit kul att rida på sistone så under måndagen tog vi en promenad allihopa med Calinka som häst till Isac. En cyklist dök upp i hög hastighet bakifrån och jag blev återigen påmind om vad lite som kan krävas för en reaktion från hästen. Nu gick allt bra, men ändå.
Sandra kom förbi idag, onsdag och vi samarbeta med att jobba Pepper. Först red jag och sedan provade hon ett tag. Pepper har precis börjat erbjuda tölt under ryttare, liksom passgång. Det gör att det blir en röra av gångarter och att ahn då och då känns halt. Frågan är vad som är vad, just nu känns det som en noga koll av läget är det bästa för att försöka förstå vad som händer. Calinka kunde dessutom få en tur på vägarna. Jag kan mest konstatera att det är skönt att inte vara själv i stallet då coh då – särskilt när något barn ledsnar.
A new week
At Tuesday it was finally time to fix Calinkas feet. Neither me nor the farrier really understood how she could have worn her feet that hard; they have probably never looked that terrible. Percy needed a trim and the foals was looked at, mostly to get used to the procedure. Luckily Björn was in the stable and could assist the farrier as David didn't cooperate totally. Björn also took Calinka for a walk when the farrier was done. Isac instead used Pepper to be transported to the areana before I did some dressage with Pepper. David found it to be enough after some minutes so then we headed home.
Embla was the surprise of the day – her first meeting with the farrier and she hasn't gotten her feet lifted many times. She got some problems with her balance – so she let me and Björn carry her. The other front leg can't possibly have carried any weight. Panic? No – it was a coincidence that we noticed that she didn't stand at any of the front legs… And the farrier didn't think her front leg was much crocked at all!
I managed to fined the fly mask that has been lost for a couple of months at Monday. It so now more red than black… Calinka has also managed to tear two masks in as many days. But, now everyone is repaired and back at the stable. But now Pepper has lost one mask and Tea another….
Isac has liked to ride lately so during Monday all of us took a walk with Calinka. A bike came up fast and I got reminded how easily a horse can get scared. Luckily everything went fine.
Sandra passed by today, Wednesday and we worked Pepper together; I started and then she continued. He has started to offer a lot of gait under saddle, both tolt and pace and every now and then he just feels … lame. But, it might as well be all those gaits mixing things up. Have to monitor that carefully to try to understand what is what. Calinka also got a walk along the roads and I concluded that it is nice to have some one else in the stable when any of the children get bored.
http:///ullekalv.se/wp-content/uploads/2015/09/ullekalv_header_logo.png
0
0
Ingrid Amadori
http:///ullekalv.se/wp-content/uploads/2015/09/ullekalv_header_logo.png
Ingrid Amadori
2013-08-07 19:25:00
2013-08-07 19:25:00
En ny vecka